Anyone who says they like portaging is either a liar or crazy.
-Bill Mason (Canoe Quotes)
To launch this year's camping season, we decided to tackle our longest paddle trip yet. Canoe camping in Killarney Provincial Park can be a challenge, we've heard, but we wanted to paddle in, do some day hiking, and then paddle out again — nothing too tough for our first big weekend of the year.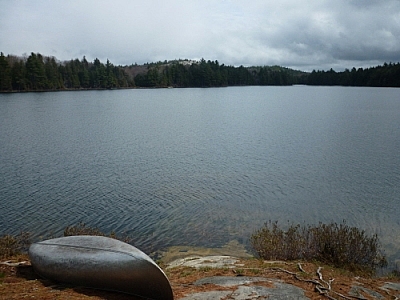 For that we would need to be at a campsite with nearby access to the La Cloche Silhouette Trail, within a reasonably close distance to Silver Peak. In fact, the whole point of this canoe camping in Killarney trip was to include a Silver Peak day hike. So, we planned a route that would bring us from Bell Lake through a small little nameless lake into David Lake and finally, Boundary Lake.
Canoe camping in Killarney on May long weekend ended up being more exciting than we bargained for, but it's definitely a trip we'd do again in a heartbeat, and the adventure encouraged us to try more paddle routes, maybe even some tougher ones eventually.
Day 1: Paddling In
We might have taken it as a sign of how our canoe camping in Killarney weekend would turn out when a man in an orange vest, seemingly alone and without a vehicle, stopped us on the road to Bell Lake to tell us we were lucky and that we'd just made it. Confused, we listened as he told us to go ahead and turn left where the dump truck was parked. We went up a hill and around a bend, and saw the truck. We took the left turn, as directed, and didn't make it very far before we were stopped again by trucks and construction equipment ahead of us.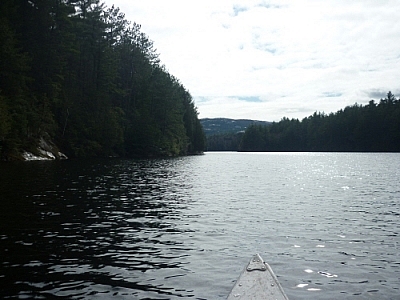 We watched as the road cleared and another man walked towards us. As Cameron, the park's assistant superintendent, approached, he smiled into the window, and we recognised each other. After a friendly greeting, we once again heard how lucky we'd been — the road had just been reopened from washouts in a few spots. But all that was behind us — we were just minutes away from picking up our park permits!
Paperwork done, canoe in the water, dogs settled in between the packs, we paddled out onto Bell Lake. The weekend before, we'd been for a short paddle on the Murdock River to practice for our canoe camping in Killarney expedition, and the wind and current had been ridiculous, so we couldn't believe how fast we were going now. Still, we didn't want to risk getting to our campsite in the dark, so I didn't stop much to take pictures.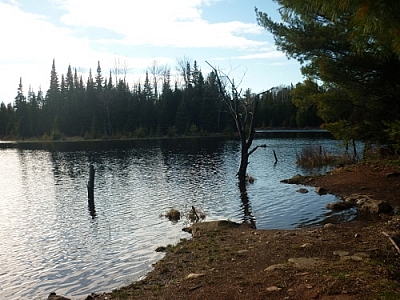 It took the time we'd figured on to get to the first portage, the longest of the day. We took a few pictures on land, but didn't stop to rest or eat. Our aluminum canoe is pretty heavy, so we carry our bags first then return for the canoe afterwards, clearing the trail a little whenever possible on the way back.
Now call me crazy if you will, but I like portaging! Or at least, I like hiking, and any amount of time spent outside of the canoe is no waste of time at all. Carrying the packs three quarters of a kilometre or more is no chore at all after I've been sitting in a canoe for nearly an hour. Walking back free as a bird is nothing but loads of fun. And even portaging the canoe is, at the very least, something different to do than sitting and paddling. Don't get me wrong — I enjoy the time I do spend in the canoe. But I'm certainly not about to complain when I get out, that's all!
Plus, I really don't think I'm strong enough to do it all at once. Just getting the canoe up over my head is hard enough! I'd rather not overstrain and hurt myself ;)(winky face). Sure, if it was up to Marc, we probably would do it all in one go; but — thank goodness — he doesn't want me to get hurt, either. Lol.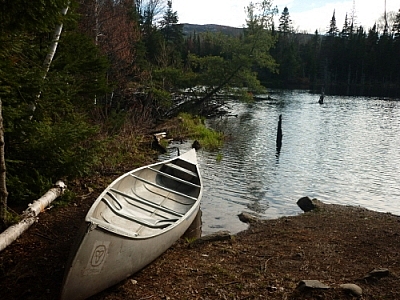 Back on the water on the second lake, it was even calmer and easier to paddle, so we made good time. Towards the end, the water got a bit rougher as we paddled against the current, but it suddenly calmed as we entered a small bay. Passing between some rocks, we ground to a stop and couldn't move on.
We were stuck on a barely submerged rock outcrop, the point of contact between the canoe and the rock pretty much right beneath my seat. Paddling just made us spin around and we did a 360three-sixty. Back in the original position, I got a sinking feeling I'd have to step out onto the rock outcrop to push us off. I stood up a little and felt the canoe shift. I wiggled my butt around a bit; and then we started to slide forward again!
Relieved, we were soon on shore at the next portage, the shortest of the day. We sped through it and put in again at David Lake, which I thought might be rougher due to its larger size. I was kind of right, but it wasn't too bad. Still, we somehow missed our last portage and went a little too far, so we had to backtrack to find it.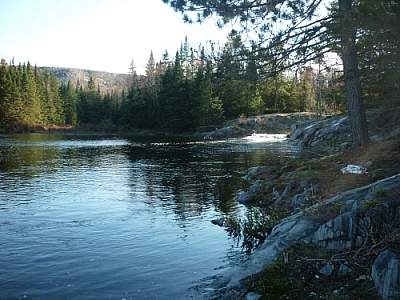 This one was a little longer than half a kilometre, which should have been no problem, but it was also uphill for what felt like most of the way! Lol. The way down was no picnic either, and it was starting to feel longer than it should when we finally got the canoe down to Boundary Lake. At least we wouldn't have to do that portage again for a few days! Still, I've been through worse, so I wasn't dreading it.
Having set the canoe down at the top of the hill above the lake, we looked around and were surprised to find none of the convenient water access that we've come to associate with portages. Instead, a grassy hill littered with white Killarney rocks sloped into the lake. We wasted time debating where and how to put in, and when at last we did it, the wind had picked up and the sun was getting low in the sky.
We paddled ahead, between a point and a tiny island and around a bend into a short channel, where the wind and current picked up even more. Once out of the channel, the going got easier again. There was still enough sunlight to see markers on trees if we stayed close to shore, but unfortunately, we took the map a little too literally and missed our campsite. By now it was dusk. We could tell we were nearly at the end of the lake and could hear a waterfall. We thought we might later during our canoe camping in Killarney weekend come back to check it out, but for now, we turned around.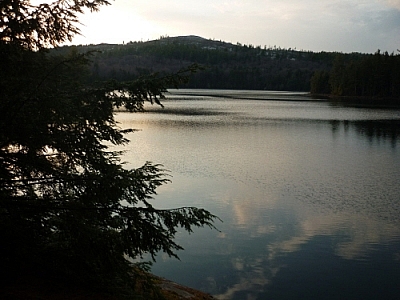 While we could see well enough to paddle fine, we couldn't see much on shore, so I took out a flashlight. Still relying on the exact location of the little triangle on the map, we thought we'd give up for the night. We'd seen a point that seemed like a good spot, and had actually thought the campsite might be there, but there had been no sign of it.
We were just coming up to it again, so we landed and unpacked our gear on a rocky slope. We headed uphill, and just as Marc was wishing for a fire pit, we saw one. We'd found our site, by luck, in the dark. That happened to us last year, too, at Mississagi Provincial Park. Never two without three, I do believe.
The next morning, we took a look around and found the campsite marker on the side of the point opposite to what's indicated on the map. So from now on, if a campsite is marked to be on a point, we'll check out the whole thing instead of just the side it looks like it should be on. Lesson learned.
As you can imagine, we hadn't planned on arriving in the dark, or on setting up camp in the dark, or on cooking dinner in the dark. But we were so happy to be there, not only at the campsite, but just there, canoe camping in Killarney, that it just seemed like another good story to tell.
Day 2: Canoe Filler
Still, the paddle trip into Boundary Lake must have taken more out of us than we thought, because we were pretty slow the next day.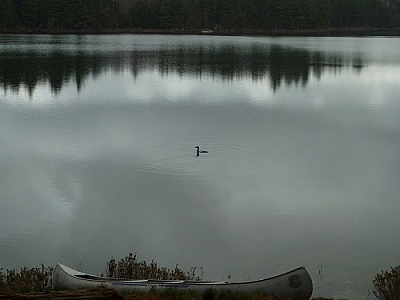 We had good intentions — we would paddle out to the portage, and hike to where it meets the La Cloche Silhouette Trail. From there we'd explore around.
But it took us so long to get ready, and we felt so relaxed, that we didn't notice how late it had gotten already.
By the time we got to the trail junction, it was already mid-afternoon. So we only hiked around a little before deciding to return to camp to rest up for the Silver Peak day hike we wanted to do on the morrow.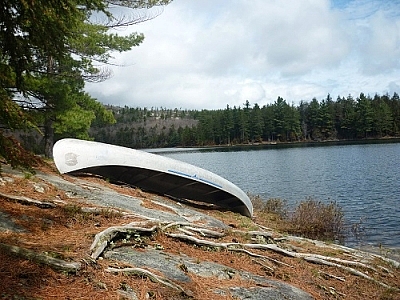 On the way back across Boundary Lake, the wind picked up again and the current got even stronger as we rounded the point and entered the small channel.
The wind and waves were pushing us towards the southern shoreline and we were paddling madly to keep moving forward, away from the rocky bank, when suddenly I heard a loud crack!
"Your paddle?!" I yelled backwards to Marc above the wind.
"Yeah! Quick, give me your paddle!"
Without thinking, I handed him my paddle, and instantly felt powerless.
The wind and waves were still hammering away at us, so we decided to manoeuvre with them towards shore and use the branches of the bushes growing along the water's edge to pull ourselves out of the channel.
It worked! Once through, Marc paddled us back to the campsite. The wind was still strong enough, but it didn't take too long.
Now we were faced with paddling back and forth across the lake the next day for our Silver Peak day hike, and paddling across four various-sized lakes on our way home, all with just one paddle.
And so I became canoe filler, though you'll see I tried to get out of it.
Day 3: Silver Peak Day Hike
We awoke that day to the best weather yet of our canoe camping in Killarney weekend. The wind was quiet, the water was calm, and we were ready to get our hike started much quicker than we had been the previous day.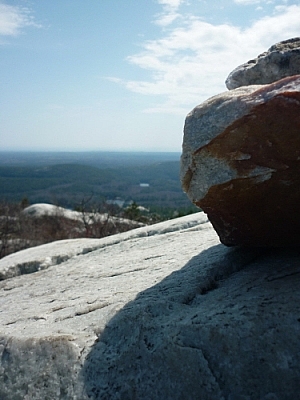 Marc easily got us to the Boundary Lake – David Lake portage despite having only one paddle. From there we took the La Cloche Silhouette Trail to Silver Peak. We followed the trail more than an hour before reaching the Silver Peak junction.
Up, up, up we went, much, much, much we admired, and down, down, down we came.
Our Silver Peak day hike was absolutely fantastic, and though it was meant to be the highlight of the weekend, our other adventures have taken predominance in our minds. I guess we think it's just more fun when something unexpected (and possibly challenging) happens!
Still, I took a bunch of pictures of the views from Silver Peak and have included just a few of the best ones below.
Day 4: Paddling Out from Canoe Camping in Killarney
Just in case the wind decided to pick up again, we awoke early on our last day of canoe camping in Killarney and were ready to go in a jiffy. The sun was out, and again the lake and wind were still, even more so than the day before, so this last trip across Boundary Lake was quite possibly the fastest yet, one paddle and all.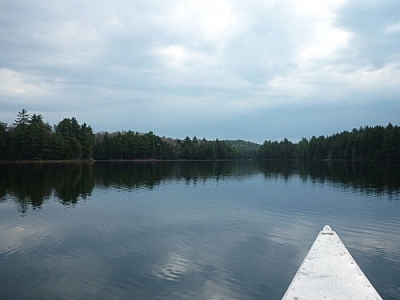 Instead of sitting on the front bench, I was more comfortable sitting on one of the packs in the middle (and I felt safer a little lower in the boat, without a paddle to defend myself). This was a great position for taking pictures, and I got lots of each lake.
This time we were ready for the Boundary – David portage. Knowing what to expect makes a big difference! We'd had a chance to scout the awkward hill a few times and find a good place to bring the canoe up. We took the time to eat a bit and take pictures.
Then we tackled David Lake. Again, I thought this might be tougher with just one paddle, but it really wasn't too bad. Not that I would know since I was just canoe filler… Whenever we saw other paddlers, I would call out to them asking for a spare paddle, explaining that mine had broken. I didn't want anyone thinking that I'm lazy! Lol!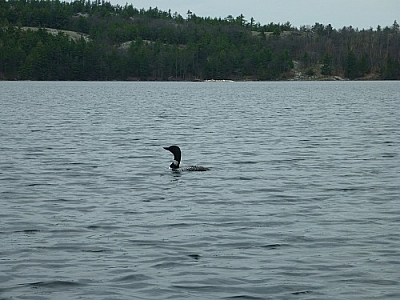 About halfway to the portage, we saw a loon gliding near us and Marc stopped paddling while I took pictures as we floated nearby.
We were making good time, so at the next portage, the shortest of the three, we took a long break before setting off again across the small lake where we'd gotten stuck on our way in. With the water much calmer on this day, we were able to see the submerged rocks that had been hidden from view a few days before, and Marc successfully avoided all hazards.
Finally, the day seemed to be nearly done after we'd completed the last portage. We'd rested again, though we didn't really need to. We were going faster than we had on our way in, with two paddles! So we took the opportunity to enjoy our last day of canoe camping in Killarney as much as we could.
Just as we were preparing to leave the last portage, having put in at Bell Lake, we saw a couple kayaks come out of a small bay, and the dogs began to bark. I knew there was a trail to Silver Peak there, but I was only a little surprised when I heard someone call out my name. Thanks to posting this season's hit list, an online acquaintance had contacted me to let me know he'd be going on a Silver Peak day hike the same weekend I'd be canoe camping in Killarney. And, thanks to writing about the dogs so often and posting pictures of them, he had recognised our group. So I finally got to meet someone I've been chatting with for about a year! Our meet-up couldn't have worked out more perfectly :)(smiley face).
When we left the last portage, I'm sure I had a big smile on my face, but it must have faded pretty quickly when we rounded the last point that brought docks and a lodge and a boat launch into view. I'd been worried the night before about crossing four lakes with just one paddle, but now that it was over and it had gone so well, I didn't want our canoe camping in Killarney trip to end!