There was a week in December when I thought my rolling pin was a natural extension of my arm — Go-Go-Gadget Rolling Pin! We were busy making all kinds of savoury vegetarian pies, mostly to freeze and some for holiday meals. Things didn't work out quite like we imagined, but our pies are all delicious so we think we were quite successful despite a few bumps along the road.
From the list of pies we wanted to try, here are the savoury vegetarian pies we made.
Root Vegetable Pie
The Root Vegetable Pie was fantastic — this is what we ended up serving at the holiday potluck and I only heard nice comments.
Of course, my pantry wouldn't allow me to make the recipe exactly. Without enough root vegetables stored, we ended up substituting squash (or pumpkin?) into the filling.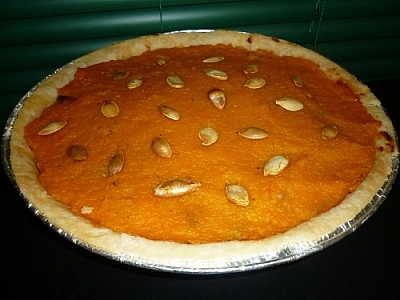 Mushroom Pie
Our Mushroom Pies turned out beautifully, so we proudly brought one of these to another holiday meal. But since we weren't asked to bring anything over, I guess it wasn't meant to be.
We prepared it the same way as the Root Vegetable Pie — reheated in the oven from frozen. But the Mushroom Pie was still cold and rather liquid by the time dinner was served, so we brought it back home.
Marc and I ate it for lunch the next day, this time reheating it pre-thawed, obviously. It was absolutely delicious, but unfortunately unimpressive when it mattered most.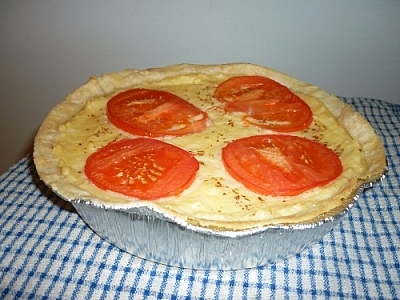 Onion Pie
We haven't tried the Onion Pie yet, but it looks great!
This time I couldn't really follow the recipe so I just used it as a guideline. For example, I used half the sour cream and replaced the other half with cottage cheese, and I used regular cooking onions instead of sweet ones.
It smelled heavenly coming out of the oven, so we're really looking forward to tasting this one. Maybe that's what we should have for dinner tonight :)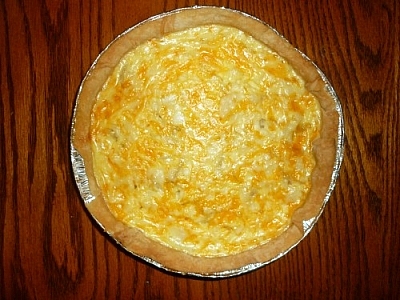 Vegetable Cornish Pasties
Ok, so our Vegetable Cornish Pasties aren't pasties, they're just double-crusted pies. I was fairly faithful to the recipe other than that, but I did make one key substitution.
When making the ingredients list originally, I must have been reading too fast and didn't notice that this recipe calls for yeast extract spread. I just remember thinking we already had yeast on hand. So when it came time to make these pies, I pulled out the different types of yeast we have — baking yeast and bread machine yeast. But neither of those are spreads.
That's when I realised that I don't know what the heck yeast extract spread even is. So I Googled it and thanks to The Cook's Thesaurus, I realised that I have seen the stuff before — in Australia! It's what Australians eat instead of peanut butter.
Huh. I wasn't going to buy something I'd never use again (plus that's probably not available in Noëlville), so I decided to use peanut butter in the recipe instead.
While we haven't eaten these pies yet, the filling was really yummy when I tried it. Can't wait to give one of these pies a go!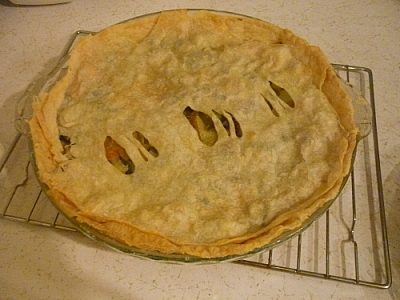 Mixed Vegetable Pie
Since the Mixed Vegetable Pie was my favourite last year, we just had to make it again this year. But I forgot that we'd bought golden yellow beets on our last grocery store trip, so the crust turned out a regular mashed potato colour instead of pink.
We haven't got any of these left, proof of how tasty they were. But we didn't bring these to any holiday meals because I wanted to serve something colourful. Lol.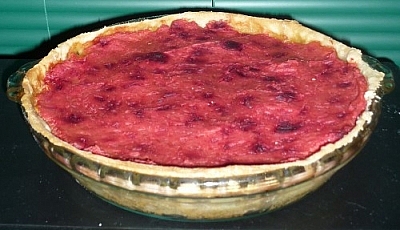 Yellow Squash or Zucchini Pie
I loved the Yellow Squash or Zucchini Pie last year, but Marc didn't get to try it because he was too sick to eat and had lost all his appetite.
This was therefore one of the first pies we had.
Awesome again!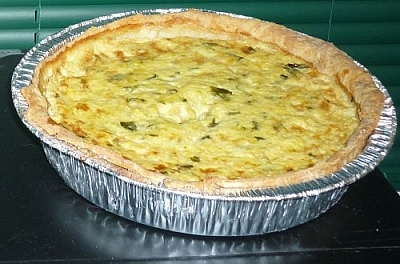 Butternut Squash and Hazelnut Lasagna
Marc spent a fair bit of time over the holidays preparing our remaining squashes and pumpkins for the freezer, but I got him to save the butternut squash for something special. A few days ago, we decided to make Butternut Squash and Hazelnut Lasagna. It was a super-long procedure with some unique challenges, but it turned out so good I had to mention it even though it's not a pie.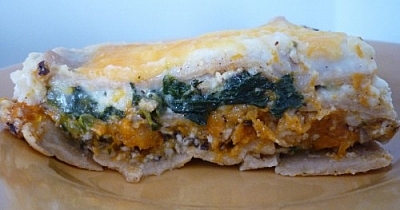 The biggest problem we had mas making the béchamel sauce. I read the recipe, and although I didn't understand one of the words used in the directions, I knew exactly what to do. But I was multitasking at this point, so I was telling Marc the directions for the sauce as I did other stuff. He shortly cut off my explanation, asking, "Oh, are we making a roux?"
Hmm, that word again.
"What, you know that word? Good, then you take care of it."
Marc has worked as a cook in restaurants and frozen-food factories, so he knows his way around the kitchen. So when we realised we didn't have enough milk for the recipe, he assured me mixing skim milk powder with water would work just fine.
And he suggested we heat the sauce at a higher temperature than the recipe instructs, but always careful with sauces, I insisted we follow the recipe (for once!). But Marc was right. The sauce just wouldn't thicken! So Marc raised the temperature a little at a time, making sure to bring the sauce to a boil without burning the milk.
He said it had taken him a while to master his béchamel sauce when he used to make it in large quantities at the frozen food factory — finding the right combination of cooking time (for both the flour first, then the liquid) and heating temperature varies with the amount of sauce being prepared.

Well, he did it. Finally, after far too long, the sauce was ready. Everything else had been waiting to be assembled for some time.
Sigh. I guess the squash we had was too small, because by the time we were ready to assemble the lasagna, it was clear we only had enough filling for one layer.
So I decided that the next layer would be an entire container of cottage cheese topped with spinach from the garden (cooked, frozen, and thawed). As we ate, we were glad for the faux-pas—the spinach adds wonderful colour and flavour.
More Savoury Vegetarian Pies
We've still got a batch of shortening left so we'll be having another big baking session soon enough, which will give us a chance to try some other savoury vegetarian pie recipes.
What's nice about the whole process this year is that I'm not trying to get it all done at once, and we're two working at it together. Marc was sick with pneumonia last year while I was madly baking away. This time, things sure were simpler with a partner. I'm actually encouraged to bake savoury vegetarian pies more than once a year!