The last time we made savoury vegetarian pies, we ended up buying too much vegetable shortening, and so we'd been planning to have another vegetarian pie baking session. And with the season's new harvest approaching, we needed to use up some of the garden veggies we still have left in our freezer. Last week, we got out the rolling pin and made a decent dent in our frozen stocks. We intended to make a lot, so we planned a whole vegetarian pie baking and freezer cooking day.
We've got some favourites we automatically turn to by now, and we always like to try out new ones, too, but we're not averse to creating our own recipes, either. The beauty of vegetarian pie baking is the flexibility to mix and match! If we're stuck on what to pair together, we just check out flavour compatibility charts such as this A-Z Vegetable Guide or this Spice Flavor Map.
So as usual, we did a little bit of everything during this last vegetarian pie baking session. We went back to a few recipes we've loved before, we got creative and did our own thing, and we found a new recipe to taste. Here's how it all turned out.
Tried, Tested and True Vegetarian Pie Baking Recipes
These recipes we've been making for a while now are simply delicious! We doubt we could go even one vegetarian pie baking session without whipping these up!
Yellow Squash or Zucchini Pie
We first made Yellow Squash Pie nearly two years ago, during my first savoury pie baking session (which lasted three days!). It was an instant hit, and since then, we keep making it again and again. Why change a good thing?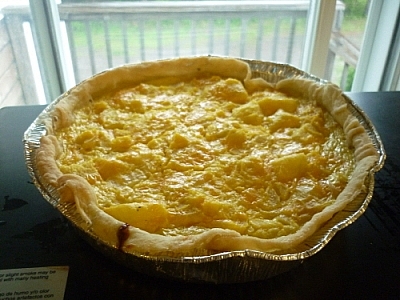 But this time, we chose to try it with zucchini as well. We'd chopped the zucchini into large rounds for stir-fries when we froze it, so we decided to try out the recipe with the big chunks of zucchini we already had. Hey, less work, right? We think it turned out perfectly, though it's not mixed up quite the same and the texture is different.
The ones made with squash blended more and the texture is smoother, while the one made with zucchini is eggier.
Cornish Vegetable Pasties
I first made Cornish Vegetable Pasties during last year's holiday season, and while I didn't quite follow the recipe that time either, I diverged even more this time around.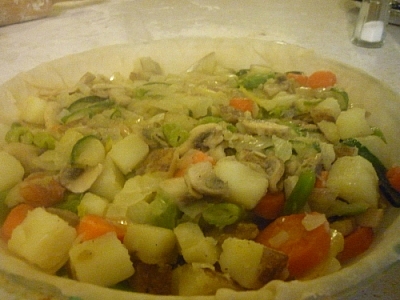 To be completely honest, I only used the recipe as a guideline this time.
I was more intent on using ingredients we already had rather than having to buy new ones just for a recipe.
Actually, I don't think what we ended up making was really anything more than a Mixed Vegetable Pie with Double Crust. Well, not a problem — they turned out great!
Adapted and Inspired Vegetarian Pies
And here's another one of our favourite recipes that we've made at each of our vegetarian pie baking sessions. It's hard to choose a real favourite, but I'm partial to this one because it's my own creation (smiley face).
Mixed Vegetable Pie with Mashed Potato Top Crust
We really just wanted to use up the rest of our vegetables by the time we got to making these. We were running out of some key ingredients, like cheese, milk, and eggs! So we used the rest of the cheese in the mashed potato top crust and didn't use any eggs in this pie.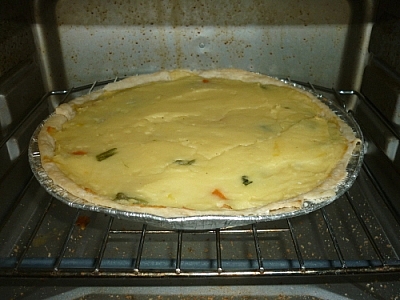 The Mixed Vegetable Pie with Mashed Potato Top Crust is from a recipe I adapted a long time ago, and have since modified a bunch of times. We just throw veggies together in a skillet, make mashed potatoes however we want (sometimes with beets to make them colourful, though not this time), and bake it all together in a pie crust.
So easy — and tasty!
Newly Approved Vegetarian Pies
We've only made this recipe once so far, but "so far" is only temporary…
Impossible Green Bean Pie
Using up a ton of green beans was the primary reason we decided to have this vegetarian pie baking session in the first place. We picked so many out of the garden last year, we weren't able to eat nearly as many as we thought! So when I found the recipe for the Impossible Green Bean Pie, I was thrilled.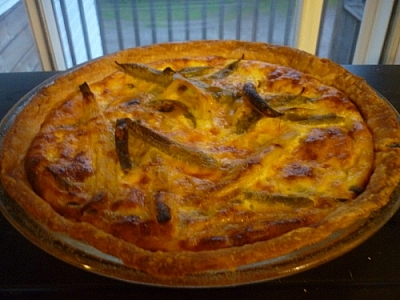 For some reason, we'd never thought of using green and yellow beans in pie before. We used them in most of the pies we made on this vegetarian pie baking day (except the squash and zucchini pies), but this recipe really helped us on our mission.
It's similar to the squash pie recipe, but different, too. It turns out a little more like quiche, though still not as eggy. Yum! We've got beans left, so we'll be making it again!
Baking Desserts
And what's a vegetarian pie baking day without satisfying a sweet tooth? We almost always make the same desserts with spare dough, though with the inevitable variations. I doubt things will ever change.
Blueberry Pie
I think baking blueberry pie is a waste of blueberries — I'd rather eat them fresh! — but Marc absolutely loves it, so I made him one.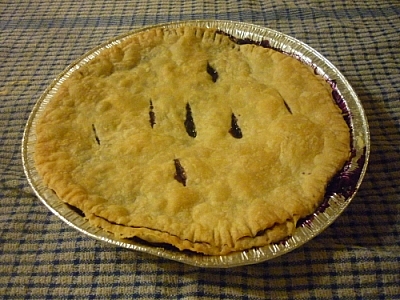 We did most of the savoury vegetarian pie baking together, but he was ready for bed by this time.
I did end up having a little piece, and I didn't regret it. Lol.
I'm guessing Marc didn't have any regrets either, because he ate most of it all to himself!
Pètes de sœurs
I made these pètes de sœurs with organic apple butter instead of regular butter, and I used organic cane sugar instead of brown sugar.
We had run out of butter by now and we didn't have any brown sugar to start with (I made the blueberry pie with organic cane sugar, too).
So I thought, what the heck, and sprinkled some of our own dehydrated black currants over it all before rolling it up and baking it.
Mmm! I had more than one of these… Oh, who am I kidding? If Marc had most of the blueberry pie, I'm sure I had more than half of the pètes de sœurs.
More on Vegetarian Pie Baking
Guaranteed I'll be doing more vegetarian pie baking in the not-too-distant future, but for now, check out the other awesome pies I've made in the past:
And if you have any suggestions for recipes you think I should try, please leave a comment below!
Happy vegetarian pie baking (smiley face).