With summer heat coming on full force and Canada Day weekend approaching, many of us have started thinking about stocking up on refreshments, and a stop at the LCBO or The Beer Store is on most of our lists. We think about buying our food locally at the grocery store because we're conscious of health and nutrition, but when we walk into a retail outlet of alcoholic beverages, that's often the last thing on our minds.
But there's a lot happening on the local beer scene. Microbreweries are becoming evermore popular as their products are recognized for premium quality, excellent taste, often greener practices, and frequently affordable prices.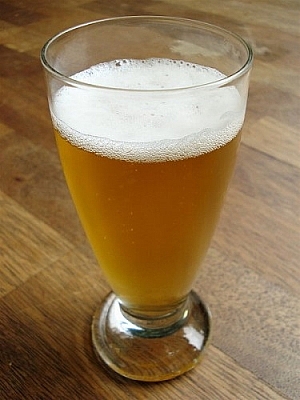 In buy-local circles, there's a debate as to what local really means. Personally, I think there's room for flexibility, depending on the product. Carrots should probably come from your own backyard garden or your neighbourhood farm, but it might be hard to find a microbrewery that close. I know many people object to Ontario's new definition of local as being province-wide, but I think it's appropriate in this case.
So with what do I choose to refresh myself on a hot summer's day? Here are four craft beers I truly enjoy, and one I can't wait to try.
Steam Whistle
I'm assuming that most Ontarians have heard of this award-winning microbrewery located in downtown Toronto's old train station — hence its name. It's only been around since 1998, but it's quickly become a Toronto icon, and a provincial favourite. Using traditional methods and natural and GMO-free ingredients, Steam Whistle brews a clean and crisp pilsner perfect for patio weather.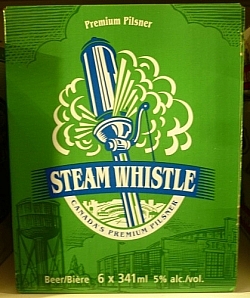 Steam Whistle does a great job of tracing the origin of the ingredients it uses, sourcing its malted barley from Saskatchewan, spring water from Caledon, ON, and hops from Bavaria and the Czech Republic. And it's attentive to green initiatives, with heavier glass bottles that can be recycled thrice as many times more than regular brown bottles; a painted paperless label; renewable wind and low-impact hydro power as its energy source; deep lake water cooling instead of conventional air-conditioning in the summer; steam heat for climate control and boiling water; and delivery trucks fuelled by local diesel.
Steam Whistle participates in many events, offers tours of its facilities, operates a retail store, and arranges home delivery in parts of Southern Ontario. It's available at the LCBO and The Beer Store, and at a large number of pubs and restaurants province-wide.
Creemore Springs
In a small village about 30 kilometres west of Barrie, small batches of beer are still made the traditional, old-fashioned way — in an authentic open flame copper kettle. Using original European recipes, Creemore Springs beers are fermented longer. And as the name suggests, only local spring water is used. There are no additives, preservatives, or pasteurization. Natural and delicious, the lager, pilsner, and kellerbier are all great (the lager being the most readily available).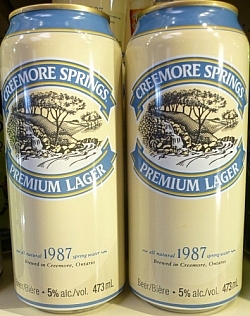 Because the company is in such a small town, it's a major employer, but it treats its staff like family. For those who want to pay a welcome visit, Creemore Springs Brewery is located in a 19th-century red brick building, offering free tours daily and a retail store. It also hosts the annual Copper Kettle Festival, during which the company celebrated its 25th anniversary in 2012. To try some nearby, get it from the LCBO or The Beer Store.
Hops and Robbers
Originally from Sturgeon Falls, Claude Lefebvre is half of Double Trouble Brewing Co., which is currently based in Guelph. The two-man team that includes his partner Nathan practices grassroots small batch brewing aimed to please the average Canadian consumer.
Double Trouble brews a very interesting IPA, Hops and Robbers, as well as a pilsner, Prison Break. I find that Hops and Robbers has a lot of weight and substance for an IPA, and a heavier, darker flavour than what I'm used to in an IPA, but the hops really add a sweet aftertaste to it. Yum! So pick some up while at the LCBO.
Upper Canada Brewing Company
I wasn't quite sure whether to include this one on the list. A local Toronto microbrewery from 1985 to 1998, Upper Canada Brewing Company was bought out by Sleeman, and although Sleeman Breweries has a long history on the Canadian beer scene, it was purchased in 2006 by Sapporo, a Japanese brewery. So, it's really not a local craft beer or microbrewery anymore.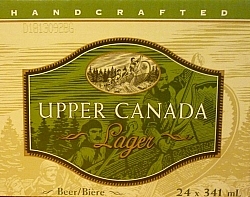 Yet, it's still handcrafted in Guelph, and marketed as a value craft beer (i.e., a craft beer without the premium price). Upper Canada Lager tastes better than any of the usual domestic beers by Molson Coors or Labatt, and the price can't be beat at $9 for a six-pack or $30 for a two-four (bottles). It's available at both the LCBO and The Beer Store.
Stack Brewing
Brand-new in Sudbury, the company's goal is to create a beer that appeals to both the casual and seasoned Northern beer drinker. Taste tests were launched at a few locations in Sudbury in June, though those taps have already run dry. Fans are waiting for an update as to when retail sales will launch, and owner Shawn Mailloux has hinted that good news may be announced over the next few days. Listen to this recent CBC Points North interview with Mailloux and local brewmaster Michael Guillemette to learn about the process of starting up a microbrewery.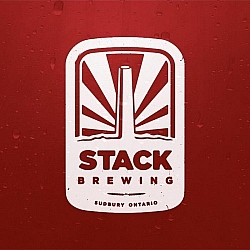 Stack Brewing looks like it will be a clear winner for green-minded locavores, with an eco-friendly packaging system and an arrangement to send spent grain to a local farm to be used as animal feed. And with beer names such as Angry Moose IPA, Les Portes de l'Enfer, Saturday Night Cream Ale, and Valley Girl Wheat Ale, Stack Brewing has a distinctly local character. I'm really looking forward to trying a few of these soon at Hardrock42 Gastropub, Fromagerie Elgin, Laughing Buddha, or The Townhouse Tavern.
Update
Check out my article about Stack Brewing's Sudbury-Style Craft Beer!