In the Temagami area, the Ottawa-Temiskaming Highland Trail follows the original paths of First Nations peoples, thousands of years old, through old growth forests, up mountains, along cliffs, and around lakes. We had seen billboards advertising it before and found all the info we needed, including PDF maps, on the Nastawgan Trails website. We decided that hiking up Rib Mountain would be our best bet.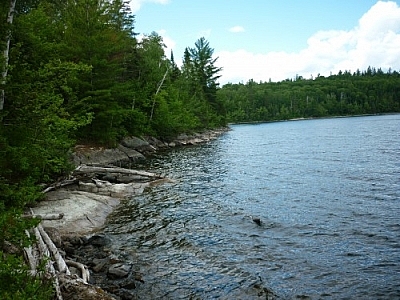 We chose to tackle hiking up Rib Mountain on Canada Day weekend. It was a tough hike in because we were too heavy (Marc brought the inflatable boat). Still, it was beautiful walking along a crevasse and catching glimpses of far-off vistas.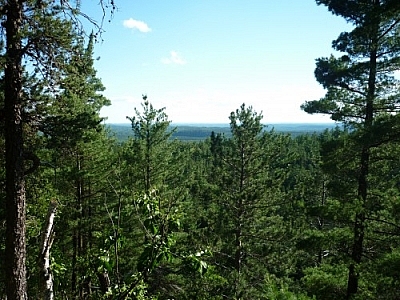 A relaxing day spent at camp, fishing, boating, and reading, was rewarded with an awesome shore lunch!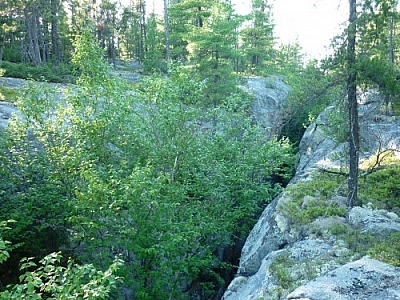 Still heavy, we looped back to the trailhead on an even higher trail. Stunning views couldn't keep our eyes off the ground, often too busy picking blueberries.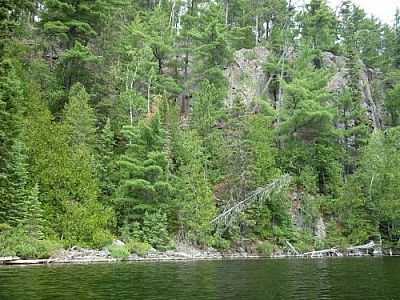 We returned triumphantly to our car in the evening, only to stall within ten minutes on the rough dirt road back to Highway 11. We had hit a rock on the way in and now the damage was showing. Marc ran the 8 kmkilometres back to the highway, hitchhiked to Temagami, and brought back help. Too late to call a tow truck, our rescuer kindly invited us to spend the night in his bunkhouse, even allowing the dogs in his vehicle and inside the bunkhouse.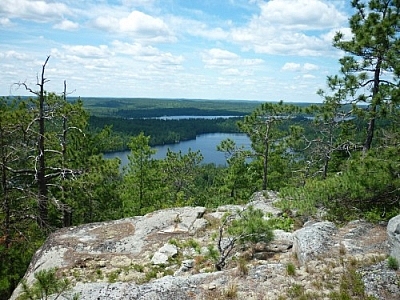 What luck! Travel karma at its finest :)(smiley face). Hiking up Rib Mountain wasn't our downfall after all.