Mashkinonje Provincial Park is one of my favourite places to hike, no matter the season. Most appealingly, there are over 30 kilometres of natural trails, accessible for free and usually not crowded. On our last trip snowshoe hiking Mashkinonje Park, we tackled the Samoset loop to Lapin Beach.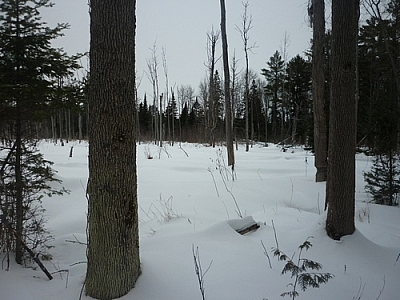 The Samoset loop to Lapin Beach is approximately five kilometres return. Although both trails are rated as Easy, snowshoeing is tougher than hiking, so the trip takes longer in winter. It took us over three hours from start to finish!
We've often found that if we're going to be snowshoe hiking Mashkinonje Park, where to park the vehicle can be an issue. The Blandings Access Point, from where the Samoset Trail begins, is inconsistently ploughed during the winter months, while we wouldn't risk the road to the Martin Pond Access Point without a four by four — or a snowmobile! So we left our place with a plan should we not be able to enter the parking lot.
At the parking lot entrance, Marc dropped me off on the side of the road with the snowshoes and the two dogs, Maggie and Bear. Then I went to the trail head to wait for him while he parked the car somewhere close by and jogged back. It wasn't long before we were ready to get going on the Samoset Loop to Lapin Beach (smiley face).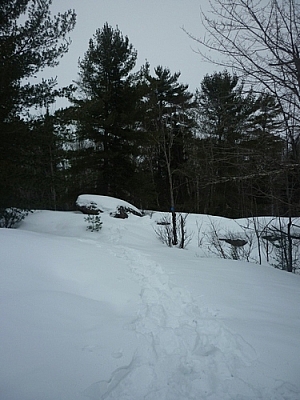 The first thing we saw once we started snowshoe hiking Mashkinonje Park's Samoset Trail was a sign announcing the direction of the Trans Canada Trail. In the fall, we'd seen the TCT signs at the other end of the park, at the Martin Pond Access Point. But we would have to take the Heron Trail to follow the Trans Canada Trail, and that wasn't our intention on this trip.
Maybe I was too exhilarated by the fresh air to think straight, because I didn't take any pictures on the first portion of the hike. Once we got close to Lapin Beach, though, the beauty of the scenery reminded me to capture a few moments for posterity.
About halfway through the return trip on Samoset Trail, it started to snow very lightly. When we reached the junction to the Samoset loop, we saw that a group had come in behind us, but had turned to follow the loop instead of continuing on to Lapin Beach.
We resumed snowshoe hiking Mashkinonje Park, for the first time following others' tracks instead of our own. On the way in to Lapin Beach, we had to break through hard, crusty snow. The going was definitely a lot easier now!
All too soon, the hike was over. We were surprised at how long it had taken us to complete the Samoset loop to Lapin Beach — it felt like we could have stayed out there a few more hours still!
Popular in Travel & Trekking