Staying warm outdoors in winter is all about layers. Layering winter wear for warmth is simple once you know the tricks:
a thin, non-absorbent, moisture-wicking, and fast-drying base layer that fits snug to the skin;
a loose insulating layer in the middle;
a warm, breathable, and protective layer on the outside.
From toe to head and inside-outwards, here's how I do it.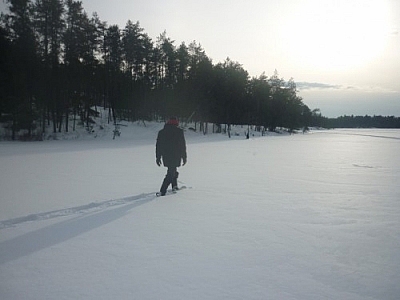 Layering Winter Wear For Warmth On Your Feet
thin base layer socks
thick insulating socks
well-insulated winter boots
Layering Winter Wear For Warmth On Your Legs
wool leggings
water-repellent field pants
insulated windproof pants
Layering Winter Wear For Warmth On Your Core
base layer with mock neck
loose long sleeve shirt
loose hoodie sweater
hoodie winter coat
Layering Winter Wear For Warmth On Your Head
wool toque
hoodie from sweater
hoodie from coat
Layering Winter Wear For Warmth On Your Hands
thin, stretchy gloves
thick, insulated gloves
Notes On Layering Winter Wear For Warmth
I could keep my legs way warmer, but that would be too much for me. I do great at keeping my core and extremities warm, and my legs never really get cold. So I don't find that I need snow pants, nor even a warmer insulating layer, especially since I got the wool leggings this year. That's made a big difference over the regular cotton-spandex leggings I used to wear.


I wear two mid-layers around my core. If it's a warmer day, I'll choose a zip-up hoodie sweater which I can unzip to allow venting if I get too hot. I choose a pullover hoodie when it's really cold.


I find it unnecessary to layer my gloves, and besides, it sometimes gets too tight on my wrists and cuts off my circulation. I use thick gloves while snowshoeing, and I switch to thin gloves while taking pictures.


I use my coat to cover more of my neck if I need more protection than provided by my mock neck shirt. I find scarves too bulky.


I don't bother with anything for my face since I just won't go out if it's that cold — lol! Besides, my glasses get all foggy when my nose or mouth are covered, regardless of air holes…
Hopefully these tips will be helpful with layering winter wear for warmth!
Beyond Layering Winter Wear For Warmth
There's more to maintaining body temperature in the winter than properly layering winter wear for warmth, though. Here are a few important things to remember.
Eat: Calories

equal

energy

equal

heat!


Drink water: Cold air draws moisture from a warm body, and dehydration weakens the body's ability to regenerate heat.


Urinate: The body focuses heat on the core to prevent internal organs from freezing, and it works overtime if the bladder is full.


Keep moving: Create your own heat naturally by keeping your circulation and metabolism going.
When Layering Winter Wear For Warmth Isn't Enough
I'm the type of person who takes precautionary measures. So for a bit of added peace of mind if you're heading into the backcountry, here are a few lightweight but key emergency items to bring along. These should fit right in your pockets.
hand warmer (disposable heat packets)
emergency blanket (reflective blanket)
fire starter (waterproof fire sticks or similar)
waterproof matches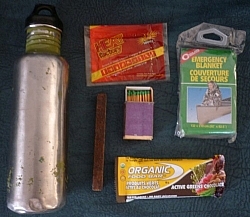 More Info On Layering Winter Wear For Warmth
Happy snowshoeing!
* BTW: So the stuff in the pictures doesn't look brand new? Even, it looks a little worn, possibly dirty, perhaps torn? It is! It's all mine, and I make frequent use of it ;)(winky face).