French River is known for its paddling routes, not hiking trails. But few know that hikers can go backpacking Papase Trail at Dokis First Nation, a 21– to 28 kmkilometre return weekend hike to Five Finger Rapids on the French River.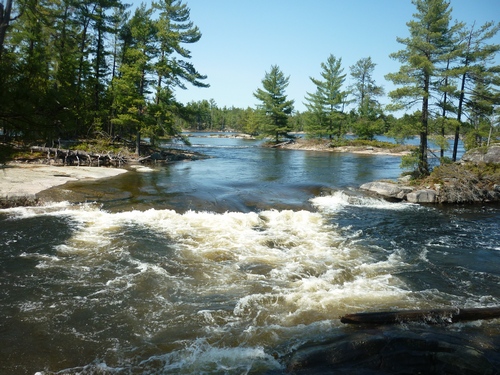 Nearly three years ago, we went hiking along the French River on Dokis First Nation's Papase Trail and had so much fun we always knew we had to go back. So this year, on May long weekend, we decided it was finally time to return. We planned our weekend hike to Five Finger Rapids on the French River with another couple who'd never been backpacking Papase Trail.
Were they ever in for a treat! As the longest trail in the French River area, there's plenty to explore while backpacking Papase Trail on a weekend hike to Five Finger Rapids. Our companions enjoyed themselves so much, they ended up camping out an extra two nights!
Of course things never go exactly as planned, so even though we intended to camp near Five Finger Rapids, we ended up staying at Hemlock Lake 2, the same site we'd stayed at before. Since we wanted to make this a fishing weekend, our packs were a bit heavier than usual, and the hike in was a little more challenging than we remembered, even though the trail had obviously recently been cleared.
Still, it was a great day to spot wildlife. Twice while we were stopped for breaks, Marc noticed a snake hiding near some rocks. The second one was a common garter snake, but the first one wasn't so easy to identify. Once back home, I spent an hour or two online trying to figure out what it was. I was able to determine that it was in all likelihood a red-bellied snake (based on information from Andy's Northern Ontario Wildflowers, McGill University's Canadian Biodiversity website, The Nature Conservancy of Canada, the Canadian Herpetological Society, and Ontario Nature).
Since we were taking our time backpacking Papase Trail, it was also a good day to see spring flowers in bloom.
On the second day of our trip backpacking Papase Trail, we set out for a day hike from our campsite to Five Finger Rapids. Most of the way is quite well-marked, though there were no markers or blazes for the last kilometer of the trail (these should be in place by the end of June). We forgot the instructions given to us by Clayton, the trail project manager, so we simply followed the shoreline until we got there.
The scenery around Five Finger Rapids was stunning, and we were surprised to meet up with a few paddlers exploring the shoreline as well. Once we were ready to return to our campsite, the way back was clear, even though still currently unmarked, so we suspected we had found the way Clayton meant for us to come.
Video by Marc Desrochers
The hike to Five Finger Rapids took longer than expected, so we didn't have much time to get any fishing done. It's a good thing we brought some eggs to poach in case we didn't catch any fish! We'd prepared some potatoes to roast over the fire wrapped in foil paper, so we were still able to have ourselves a little backcountry feast (smiley face).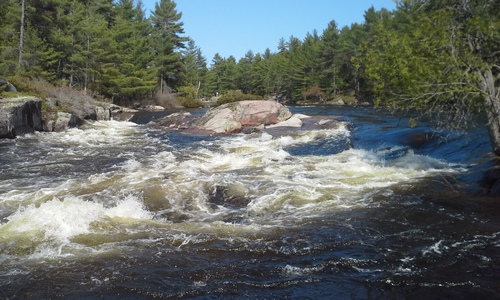 On the last day of our weekend hike to Five Finger Rapids, Marc and I were getting our gear ready to go when our companions suggested staying another few nights. Since Marc had to work the following day, we gave them our extra food and homemade natural bug spray, then began making our way home.
As always, backpacking Papase Trail on the way out seemed to go by so much faster than the hike in! We still can't believe how quickly our weekend hike to Five Finger Rapids went by — and we can never get enough of the scenery on the French River.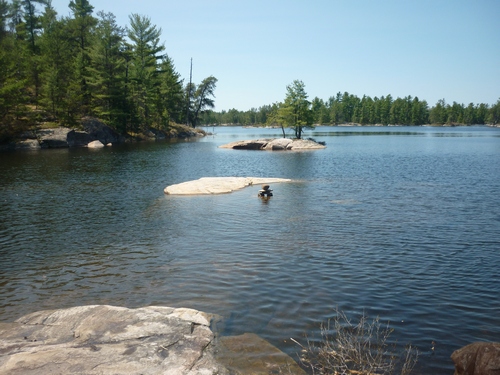 To plan your own trip backpacking Papase Trail on a weekend hike to Five Finger Rapids, contact Clayton Dokis by telephone at 705-763-2200 or via email (opens in a new window or program) to obtain maps, fishing regulations, trail and camping permits, and directions.