Quito: The colonial Spanish buildings lining the narrow, steep streets are absolutely beautiful, but not in good repair. The cobbled streets are uneven, sometimes there are sidewalks, rarely can a trash can be found… Around every bend, there's another breathtaking view of the city beyond. While the mountainsides are covered in forests, the city itself boasts of few green spaces (Plaza Grande being the biggest one, outside of the parks).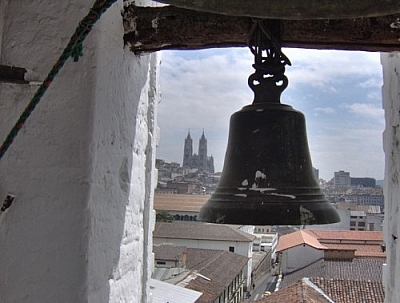 Travelling alone can admittedly be boring at times. Loneliness is the biggest challenge, but it's a foreseeable one. How do solo travellers keep themselves occupied? More importantly, how do they meet people?
Wandering the streets today after arriving in Quito, I found myself bewailing my poor knowledge of Spanish. Too often, I would have spoken to someone but didn't for fear of embarking upon a difficult conversation peppered with "no comprendos" and "hablas ingleses?".
Yet, I still managed to enjoy the brief encounters I did have. Walking along Quito's Calle Guayaquil, two young men commented on my hair, smiling. Of course, I only knew what they were talking about because they touched their heads, but still, I was gratified. I may have been mistaken; they may have been laughing at my boyish cut, but my one-day experience with Ecuadorians is that they're polite — they wouldn't laugh at me to my face, would they?
I was equally pleased to explain to my waitress at a great café/bar, El Escudero (at Flores and Espejo in Quito's Old Town, or Centro Historico), that I was working on my writing and not on schoolwork, which is what I understood her to have assumed.
Despite the language barrier, most people I spoke with today were kind and helpful, especially the two people at both banks I entered in an attempt to change money.
After being turned away a second time, the teller kindly wrote down directions for me and after a bit of confused wandering, a tourist police officer pointed out my destination, the ServiCambios at Calles Venezuela and Chile.
I was surprised to see so many policemen and militia with machine guns around Quito's Plaza Grande. I didn't think there would be such a strong military presence here! By the time I saw two officers patrolling the streets on foot with Rottweilers, I was immune, even though I saw something that made me think the police patrols might be necessary.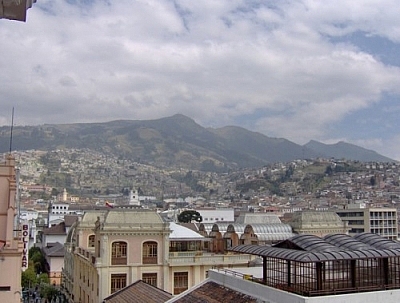 I don't know why it happened, but a small riot occurred before my eyes. I was at the currency exchange when crowds started running in the street outside. My first thought was of a Spanish bull run and I stood up to get a better look. One of the attendants immediately went to the door and started to lower the metal gate.
Not wanting to miss seeing the action, nor get locked in there indefinitely, I left, thinking that I could bury my nose in my guidebook, South America on a Shoestring by Lonely Planet, and pass as a confused tourist (which I was) if anything happened. I quickly walked around the corner and watched from there. I saw a few youths throwing sticks in the opposite direction, but nothing else happened. I'll probably be clueless forever.
Still, I chose another street to follow on my way to the Museo del Banco Central.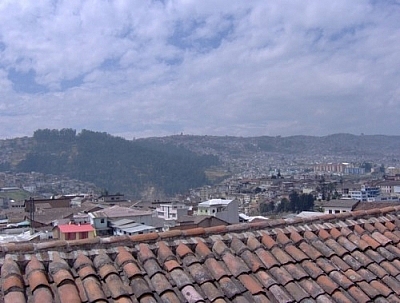 Quito is totally walkable, by the way — if you like to walk, that is. I was able to walk from the southwest of Old Town to the southeast of New Town without any problems. The walk to the Mariscal and Gringolandia in New Town from the Centro is only half an hour.
The museum in itself was all right. The explanatory signs were in Spanish and English and therefore tourist-friendly. I guess I just expected something more along the lines of Toronto's Royal Ontario Museum, but frankly, I prefer art galleries to museums, so with more art than artefacts, this had just the right blend of history and art.
I finished the day alone at El Escudero, which brings me back to my original thoughts. I was looking for a place to socialise and never found it. How does a girl travelling alone find company? Even after three cerveza grandes, I couldn't talk to anyone but the wait staff!
Oh, well, I've already decided to go out Friday night and give it another go ;)(winky face).