This is the end of Quito for me. Today I'm moving on to Mera. I can't wait to get out of the city and into the rainforest, but at the same time, I'm very sad to so soon be leaving all the wonderful friends I've made in Quito.
Three hours on the internet yesterday. Shitty buzz.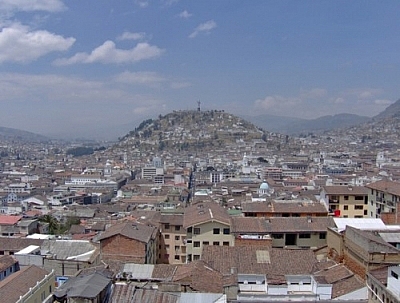 But afterwards, Parque Itchimbia was completely delightful, not only for the splendid views, but also for the people gathered there.
Children playing pickup football matches, families strolling along together, and the cultural centre (where else but in the middle of it all?), where there are temporary contemporary art exhibits.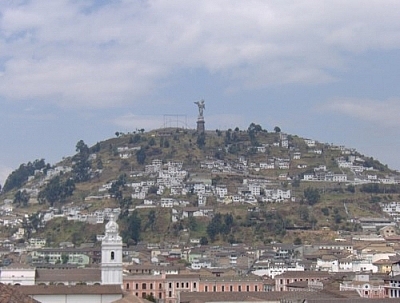 One of my new friends, Mauricio, played tour guide for a few hours and took me up to El Panecillo yesterday evening to see La Virgen de Quito up close. The view was incredibly magical, what with everything within sight aglow with millions of lights!
Walking around Saturday evening was quite the experience. Quiteños hang about the streets, chatting, playing traditional games (one which is similar to tops), and generally having a good time after a long week of hard work.
The vibrancy of Saturday resounds in the empty streets of Sunday, when everyone is at home, recharging for the following week. With two or three million inhabitants, the city is never boring, though.
I can't wait to come back here! One last stop at El Escudero to say goodbye to my new friends, then off to the jungle!