The Korea Wetland Project has released PDF versions of my photo journals of a Korea Wetland Keeper (smiley face). The Jirisan Wetland Eco-Tour Journal tells of visiting areas of the park usually restricted to researchers. The Upo Marsh Circuit Hike Journal describes how I got more adventure than I had bargained for in endeavouring to walk around this enormous wetland system.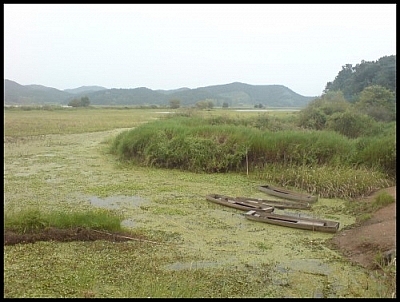 I learned about the Korea Wetland Project on CouchSurfing. I thought it was perfect for me. Volunteering to go hiking and to write, all in the name of the environment and travel — does it get bundled in a better package than that?
Language barriers don't generally scare me off, so in mid-August, I went on an all-Korean eco-tour of Jiri Mountain's wetlands as a volunteer.
My task was to participate in the tour and write a photo journal about it, which would be used to attract more tourists to the eco-tours offered in all of Korea's national parks.
The tour itself was interesting at times, a bit boring at others. I had people translating for me when they could, but they just couldn't deal with the technical language of science and botany, so I was often left in the dark. Still, they were able to convey a lot of interesting information and I was thrilled to be visiting prohibited areas of the park.
It was definitely different from the crowded three-day Jirisan trek I'd done in May!
In early October, I gave myself a self-guided eco-tour of Upo Marsh on a circuit hike, after checking with the Korea Wetland Project that Upo is the type of wetland they're looking to promote through the photo journals of a Korea Wetland Keeper. Once I got the ok, I planned an educational day trip for myself.
Too bad I wasn't with the Korea Wetland Project when I went to Eulsukdo in Busan, at the mouth of the Nakdong Estuary!
Still, I'm so happy I had this opportunity. I love hiking in mountains, but I was brought up by lakes and rivers. Living by the ocean just isn't the same. I missed swamps! Thankfully, I found some (smiley face).