Y
ep, this photo album should have been posted a looooong time ago, but better late than never! It didn't take much time to create this album of my walks and explorations throughout my
year living in

Busan
, during which nostalgia and a fierce desire to return clashed with astonishment at having been back as long as six years already! Still, if you've ever wanted to
travel to South Korea
, these photos will definitely tantalize you.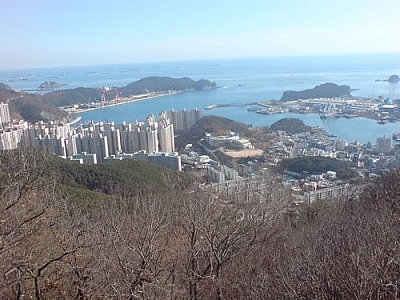 I spent a little more than half the weekends in a year and quite a lot of time during the week getting to know the city while living in Busan, and I grew to love every bit of it. Getting from beach to mountain can hardly be any easier than here. I lived in Dadaepo, an outlying suburb with its own charms.
The photos below, which I took while living in Busan, begin from the Dadaepo area and continue in a clockwise direction throughout the city.
Dadaepo

Port and Neighbourhood

When I was living in Busan, my apartment was by the ocean-side, and nighttime strolls along the docks were common during the warmer months. Throughout the year, ships would arrive from around the world, and remain sometimes only a few days, sometimes a few weeks. One of the highlights of living by a port, for me, was meeting some of the crew members of a Greenpeace vessel, The Esperanza, as the organization prepared to help negotiate reductions in tuna fishing.
Dusongsan

Peninsula

Not far from the apartment where I was living in Busan, I hiked even more often at Dusongsan Peninsula. It would take half an hour to get to the halfway point, so if I wanted to get all the way to the end, then I had to make sure I had at least two hours to hike that day. And, this is where I would come if I was taking the neighbour's dogs, Suteori and Areongi, out for a walk.
Dadaepo

Beach

I would see Dadaepo Beach quite often, since it's the gateway to Molundae Park, where some of my favourite neighbourhood walking trails were located. Despite its beauty, it wasn't often very packed due to the suburb's distance from the heart of the city. A few events drew in the crowds at times, though, such as the Busan International Rock Festival and an annual water fountain music and light show.
Molundae

Park

When I only had half an hour for my walk, I just had time to go around the park once. But on days when my walk was an hour long, I could walk around Molundae Park twice (smiley face).

It took me about a month living in Busan before I discovered the park, though. The first time I visited Molundae, I spent the entire afternoon exploring the various crisscrossing paths. And what a lovely birthday surprise that turned out to be!
Eulsukdo
Even though Eulsuk Island wasn't all that far from where I lived, I only managed to get out there once…
Eulsukdo is actually an estuary, located at the mouth of the Nakdong River, and it's an important breeding and feeding ground for about 150 species of migratory birds, if I remember correctly. This is maybe one of the reasons I would get to see many different types of birds while walking at Molundae.
But on the day I visited, the whole place seemed closed. The eco-centre wasn't locked, so I did get to see some of the exhibits, and I found a few short trails to follow, but no map of the area and a few locked gates. Still, it was lovely to see the area up close instead of up from the top of Amisan.
Elsewhere in
Busan
We'll now be heading north from Dadaepo and making our way back along Busan's eastern coastline.
Geumjeong

Fortress

I ended up in these parts more than once due to what I liked to term "adventure hiking," when I would leave Dadaepo and walk as far as I could while barely ever leaving the mountains, never following the same paths and never knowing exactly where I would end up. Just once I came here to hike the fortress wall, though now I wish I'd come back to see the rest of the trail…
Jangsan

and

Haeundae

Beach

I only hiked at Jangsan once, but I spent many a weekend at Haeundae Beach! I did a whole bunch of exploring in this region, so while I did hang out at the beach a lot, rarely was my time spent just laying in the sun ;)(winky face).
U.N. Cemetery
Conclusion
There was always something new to see when I was living in Busan. I got to discover so much more of the city than I can describe here, and yep, I did so much of it on foot! I developed a real taste for the self-guided walking tour while I was living in Busan, and South Korea in general (smiley face).