We're almost always behind schedule when we go on a hike, but we actually managed to leave a few minutes early on the morning we were hiking the History Loop on Etienne Trail in Samuel de Champlain Provincial Park, even though we'd only decided late the day before to head to the hills of Mattawa for a Sunday excursion.
The day was overcast and muggy, the forecast calling for high temperatures. We didn't know what to expect, so we dressed for heat but packed along our rain jackets and bug vests.
On the way, we saw a deer, a hare, and a chipmunk, so we knew it was going to be our day for wildlife.
We'd been to Samuel de Champlain Provincial Park once before, in the Spring of 2011. We'd hiked the 5-kmkilometre Geology Loop of the Etienne Trail then, so we opted for the 9-kmkilometre History Loop this time.
Both trails, as well as the 8.5-kmkilometre Nature Loop, meander between the Mattawa River and the north side of Long Lake, until the History Loop veers North to follow the river east. The Geology Loop turns back west of The Gut, a bay off the Mattawa River, while the Nature Loop meets the History Loop east of The Gut. The two rejoin the Geology Loop to return to the trail head at the west of Long Lake.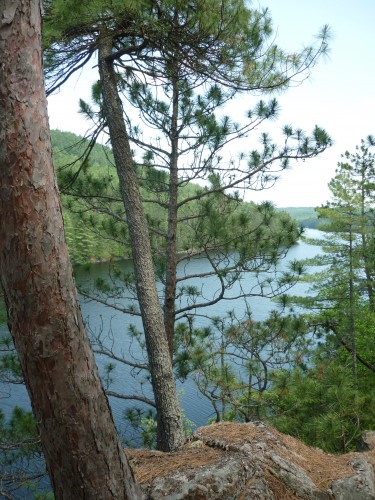 We weren't in any rush, and it was nice to hike without a full load on our backs, à-La-Cloche-Silhouette-mode.
We stopped as often as we liked, usually just to take pictures.
There were lots of great views, many of the Mattawa River, others of Long Lake on the way back.
All afternoon, we only met one other person hiking the History Loop on Etienne Trail.
We kept expecting to see turtles since there had been signs on our way into the park (and we remembered seeing some on our previous trip), but instead, we saw a young garter snake cross the trail quickly as we walked by.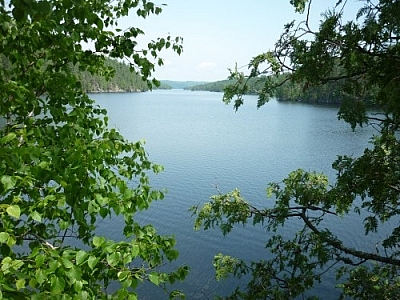 At one spot with a gorgeous view where we decided to take a break and eat a snack, we were munching as quietly as it's possible to do so on our homemade trail mix when a crane appeared from somewhere below us, flew up, and glided directly over us, disappearing low behind the tree tops at our backs.
Still awed, it wasn't much later that a blue jay landed in a tree nearby. I handed Marc the camera; he aimed, but before he could press the button, the blue jay moved to another nearby tree. Marc repositioned, and, sensing his hesitation, I whispered, "Click." I heard his reaction; then the blue jay took flight, swooping down over the water below us.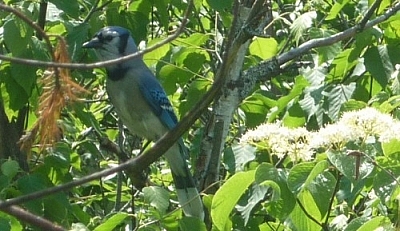 I was able to keep my eye on the dot of bright blue in the green tree line until it was engulfed by thick leafy cover. Looking at the picture Marc snapped, we were happy the one shot we got was a decent one.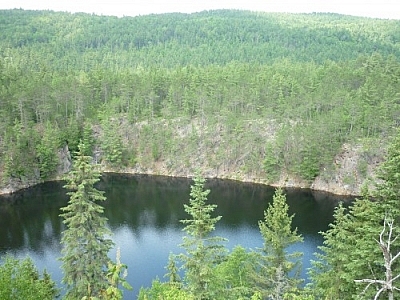 We kept walking, stopping frequently to take pictures. Ready to leave one spot after pocketing my camera, I heard Marc shout something out as he continued along the trail, but it didn't quite register.
A second later, I echoed his shout: "Snake!"
Marc, who had stopped to wait nearby, replied, "Yeah, didn't you hear me?"
So I took a picture of the garter, its tongue flicking.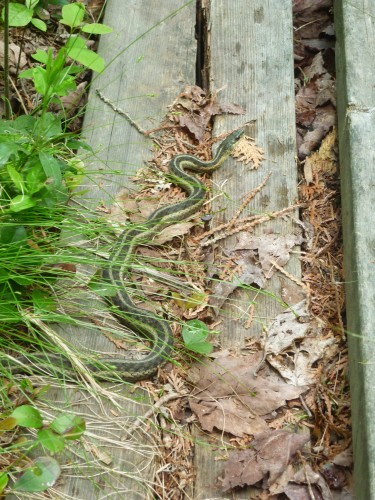 Back on lower ground, a long boardwalk hinted to us that we approached the end of our hike.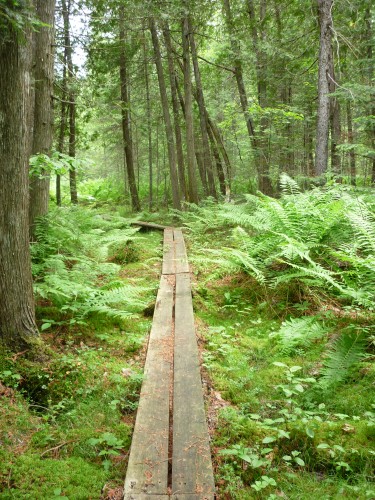 Not expecting to see anything else that day other than turtles, we were surprised to spot another — larger — snake sunning itself on the rocky shore.
Marc saw the Y on its head right away, which we knew from previous research means it's a milk snake. Neither of us knew of having seen any before, though maybe we confused them with rattlers, but that's definitely two now this year, the first having been during our Killarney trek.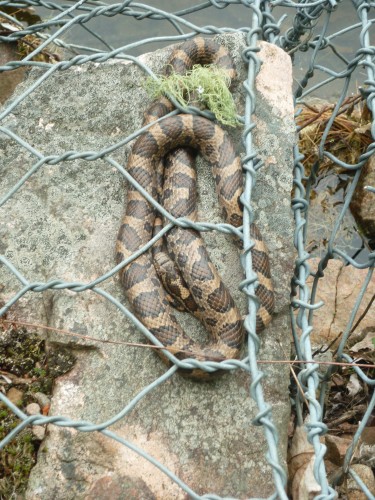 Now really at the end of our hike (40 minutes earlier than expected), I bent over the edge of the water to splash my face, and a frog leaped away!
We got out of the park just as a hard, dense downpour unleashed itself. Thank goodness for being ahead of schedule all day! By the time we reached North Bay, the rain subsided to a mist, but the day's adventures weren't done.
On our drive home, we saw four deer grazing in someone's front lawn, and a bear crossed the road in front of us.
Yep, it was definitely our day for wildlife! It was also a perfect day to spot wild flowers in bloom :)(smiley face).
If hiking the History Loop on Etienne Trail was this good, I wonder what the Nature Trail will be like? ;)(winky face).
Popular in Travel & Trekking