Last Friday, Marc and I decided to throw a little Halloween spirit into our hiking plans, so instead of a bush excursion, we planned a city walking tour of North Bay. After work, we headed to the city for the Haunted Downtown Hike, offered by Discovery North Bay.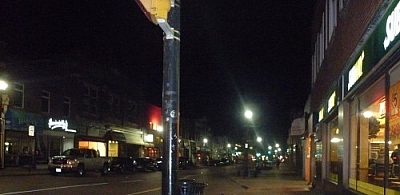 Volunteers met our group at the old train station, now a museum and the downtown city bus terminal. We started the city walking tour of North Bay right there at the train station (in the dark, potentially for effect, or maybe because it was closed).
There we heard tales of ghosts haunting the building as a result of all kinds of terrible events — a train accident, an unknown damsel waiting for her lover to arrive, a mass drowning.
The creepiest was the suicide, since we could still see the 100-year old bloodstain seeping through the multiple coats of paint.
Next — I don't want to divulge too much of the haunted hike here — I'd rather you go check it out for yourself! —
Next, the group walked across the street and around the downtown area to stop in front of a few renowned local stores and buildings: The Nutty Chocolatier, the Capitol Centre, Gulliver's Bookstore, New Orleans Pizza, the courthouse…
At each place, we heard spooky stories and gave ourselves the shivers (the strong winds may have contributed to that latter part, too).
What stood out for me was that taking this themed city walking tour of North Bay was a completely new experience in an entirely familiar place. And, it was a different approach to history, but history it was.
We were given all kinds of details to add to the richness and scope of the stories, like what each building or store used to be (a restaurant with a bar and card room in the basement during prohibition, and North Bay's swankiest hotel now a pizza place!).
We learned about people's jobs and the way they lived before things were the way they are now (curtain managers at the opera, prisoners on death row, soldiers home from war).
When we were told of the two First Nations lovers from warring tribes, the guide took the time to explain to us that colonising factions had started the war. That's a good history lesson!
So alright, for someone who's somewhat of a history amateur, and definitely a lover of city walking tours!, the North Bay Haunted Hike was perfect for me. Turns out, it was perfect for Marc, too, though he likely normally wouldn't have thought of doing that sort of thing.
The volunteer guides were so lively, and the subject so fascinating without being overwhelming, that we actually stayed after our city walking tour of North Bay was over to hear more ghost stories from our guide, who shared some of her own personal experiences with us.
The North Bay Haunted Hike is offered every Friday evening throughout the summer until the end of October, and lasts approximately 1.5 hoursan hour and a half. This year, there was a lot of interest, so the tour is being offered on Halloween night as well.
As we left, I suggested that this year it would also be highly fitting to offer the city walking tour of North Bay at the regular Friday slot one last time on All Saints Day.
The questioning look on the volunteer's face told me it wouldn't be happening.