I left Puerto on Sunday afternoon at 2 o'clock. The bus ride from Puerto Maldonado to Cusco was supposed to last 18 hours, but we were stopped a few times: once because the road was flooded, once because a bus ahead of us had mechanical problems in a flooded area, and once because I-don't-know-why.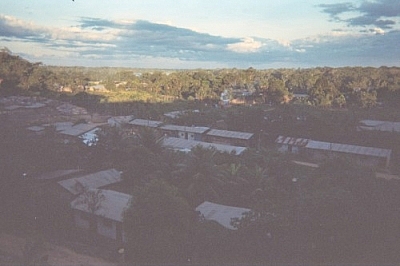 Even though it's only the start of rainy season, it's already making itself felt.
The first time we were stopped about two hours, I'd say. This is when I met Percy.
I'd been walking around by myself when he approached me and struck up a conversation. It was pretty lame; he asked why I wasn't mingling.
I told him I didn't know anyone.
"Bueno punto," he laughed. Good point.
And then my new friend, a Peruvian from Tingo Maria living in Lima who had been travelling in Brazil, got over his shyness and we hung out the rest of the bus ride from Puerto Maldonado to Cusco.
It was pretty crazy to cross flooded areas, the water covering the bus's wheels!
The second time we only stopped about an hour.
But the third time, we stopped for 17 hours! That's about as long as the whole bus ride from Puerto Maldonado to Cusco was supposed to take!
We stopped around 8 on Sunday night in a town called Mazuko and didn't leave until 1 the next afternoon. At least there was internet!
Afterwards, we stopped a few times, but never for too long and it was always a welcome pee /(slash) smoke break.
We finally reached Cusco at 3:30 this morning, a ride of 37.5thirty-seven and a half hours. All in all, it wasn't too bad because I like getting off the bus.
What's more, the rainy season can cause way more floods than what we encountered; the journey can take up to a week. I was lucky to do it in less than two days!