Besides being a stand-alone single, my new e-book, Memories of a Carnivore: Adventures in Eating Ethically, is also available as part of FPQ2: Spring 2011, a great four-piece collection!
With short stories by Don McLellan, Meghan Rose Allen, Jack Bootle, and yours truly, Julie Dupuis, this e-book download is a steal at only $5.99.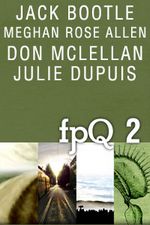 Found Press Quarterly 2: Spring 2011 (Affiliate Disclosure) is the second of many similar short story collections available from Found Press Media. It includes:
Check it out and enjoy!
Update :)(smiley face). The stories from Found Press Quarty 2 have also been published in Found Press Complete Collection 1 (Affiliate Disclosure), a 16-story collection.