Cleaning the bathroom isn't always the easiest or most fun chore, but eco-friendly bathroom cleaning takes a lot of the hard work and ick factor out of it.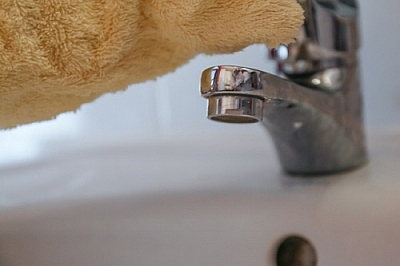 In my last post, I introduced cleaning green with vinegar, baking soda, and kombucha vinegar. If you haven't already, you should check it out to learn about how these ingredients work together, because they — and a few other simple, natural ingredients, such as salt, lemon, borax, and essential oils — are all you need to get the bathroom sparkling clean without exposing yourself to harmful chemicals while you're at it.
So if you're looking to clean your home in a way that's healthy for your family and the planet, start with these eco-friendly bathroom cleaning ideas. Just remember, you can substitute the vinegar in any cleaning recipe with kombucha vinegar for an even healthier and greener bathroom cleaning regimen (see Top 5 Uses for Kombucha Vinegar).
There are a few ways to approach your eco-friendly bathroom cleaning routine. You can make your own eco-friendly bathroom cleaning products with vinegar or kombucha vinegar, baking soda, lemon, and essential oils, or you can buy the store-bought kinds. You may find a combination of both is best for you. The surest way to figure it out is through trial and error!
Eco-Friendly Bathroom Cleaning Recipes
These fifteen ideas and recipes for eco-friendly bathroom cleaning will cover every nook and cranny of your privy. Click the links for more details on each tip or recipe.














If you find or create your own eco-friendly bathroom cleaning recipes, make sure to check the Vinegar Don'ts and the Queen of Green's cleaning chemistry advice before using them.
Eco-Friendly Bathroom Cleaning with Kombucha Vinegar
We're loving kombucha vinegar as a scentless all-purpose cleaner. We've actually started brewing batches specifically to use as kombucha vinegar since we started making our own eco-friendly bathroom cleaning products.
To learn how to brew your own kombucha, either to make kombucha tea or kombucha vinegar, read
Kombucha 101: Benefits and Preparation
and
Kombucha 201: Tips and Tools
. Then, download Kombucha Mamma's
free
DIY Guide and order your own organic kombucha culture starter kit from Kombucha Kamp. I recommend it because I trust you're getting the best quality kombucha SCOBY since each one is
one hundred percent
organic and orders are packed fresh.
Commercial Eco-Friendly Bathroom Cleaning Products
However, you might not be into the idea of making your own eco-friendly bathroom cleaning products at all. If not, then you can buy some good ones commercially.
A few of the most eco-friendly bathroom cleaning brands we've come across, among others, are:
Most of these companies are based in Ontario, so buying commercial eco-friendly bathroom cleaning products can still contribute to the local economy. These are some options I prefer, and a few other brands I've heard are really good. We've been making a lot of our own products for a few years now (mostly just by using vinegar and hot water, until we started using kombucha vinegar), so we haven't had the chance to try each of these suggestions. If you have any feedback about them, please let me know in the comments section below.
You can also buy many of these products as well as similar ones locally in Sudbury at The Wellness Shoppe and Eat Local Sudbury, in North Bay at Nature's Harvest, and in Parry Sound at Georgian Bay Whole Foods.
Remember, though, that no matter how good the product on the inside, unless it's packaged in recycled paper, glass, or recycled or plant-based plastic, the homemade cleaner is likely to be the greener version. Especially if you're using kombucha vinegar in your recipes! Luckily, some of the commercial brands do use Earth-friendly packaging.
Conclusion
We've got a few more tricks up our sleeves now that we've begun experimenting with kombucha vinegar, and I'll share a few of those very soon. But first I've got more green cleaning tips coming up next. Until then, why not give eco-friendly bathroom cleaning a try?