A self-taught artist, Andrea Gregoire operates Pique Passion Mosaics out of her studio in Monetville. She recently discussed working and living as an earth-friendly artist with Green Niackery.
Educated in fashion design at Fanshawe College, she now applies the principles of upcycling she learned in her studies to her art.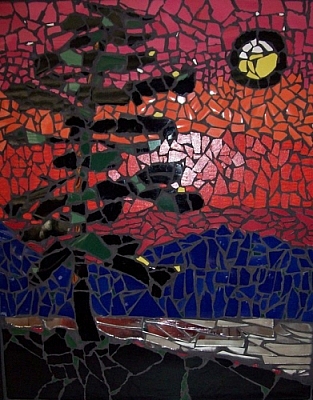 Represented by The Backstreet Gallery in Noëlville, Andrea will be teaching her first course in mid-August. And, having recently moved locations, she has lots of plans to continue developing her artistic career.
Pique Passion Mosaics Q
and

A

GN: When did you start mosaics? How did you get into it?

AG (PPM): I have always been artsy. Ever since I can remember, I have experimented with numerous different mediums. Over the last 15 years, that was anything from painting to fashion design to jewellery making.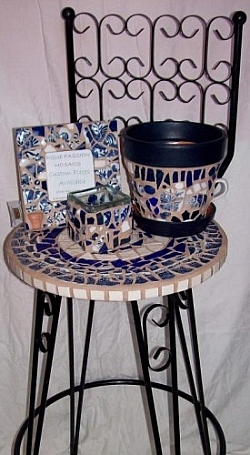 I decided I wanted to learn how to do mosaics, so I studied it on my own time and taught myself through trial and error of course. It is a very challenging medium to work with and very time consuming, but extremely self-satisfying.
I started experimenting with mosaics about four years ago and began really to find my niche. Since then, everything has fallen into place. While creating pieces, I find it peaceful and exciting at the same time.
I have developed such a passion for it. There are so many different aspects to mosaics and it's always motivating, whether it's looking for materials, designing the next piece, breaking the pieces, gluing, nipping, or grouting.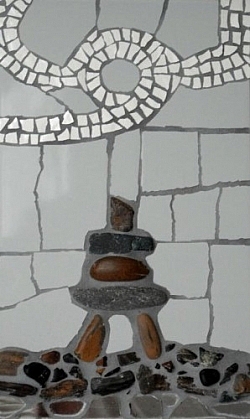 GN: How do you choose the pieces you work with? How about the projects you undertake?
AG (PPM): Sometimes all it takes is an old plate, handmade pottery, or a piece of vintage furniture and immediately I can envision something I want to create in my head. I usually will think about how and what I want this specific piece to look like and then start gathering and searching for my materials.
Often it can take weeks to months until I find all the perfect pieces I need. That's also the challenge when creating my mosaics. I don't have all the materials on hand that I need so I go and search for them.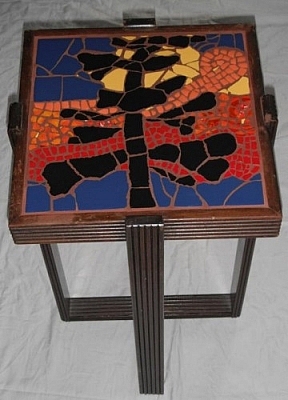 GN: What inspires you?
AG (PPM): I have always had a passion for colours. Seeing certain colours or patterns inspires me to create art.
I love the outdoors and seeing anything from tree bark to sunsets inspires me. Everything is so peaceful and naturally beautiful outdoors, and if I can re-create even a little bit of that into my art and upcycle at the same time, it's extremely gratifying.
My inspirations can derive from anything outdoors to a pattern on a vintage vase or antique furniture. There's so much character and personality and originality in vintage pieces.
Also, what mood I'm in determines what I will create next; sometimes things are playful, serious, or even romantic.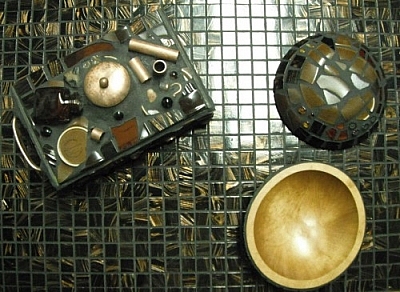 GN: Why is upcycling important to you?
AG (PPM): Upcylcing is extremely important to me. Making something new from something old, reclaiming materials, gives whatever I'm creating a new lease on life, therefore preserving its originality and quaintness.
The environmental issues we now face are important and serious. Any little way I can be a part of being environmentally friendly is fantastic.
Upcycling is an even greener way of recycling. There is no energy and waste as there is in recycling and breaking down materials to make newer ones. Some refer to upcycling as a physical process and recycling as a chemical process.
Both methods are extremely beneficial to the earth in different ways. One of the main reasons why I choose to upcycle is to prevent wasting potentially useful materials by repurposing existing ones.
I am able to see the potential in old or broken things by re-using them to create beautiful and original pieces of art. This reduces the consumption of new raw materials when creating my pieces. Reducing the use of new raw materials can result in a reduction of energy usage, air pollution, water pollution, landfill waste, and even greenhouse gas emissions.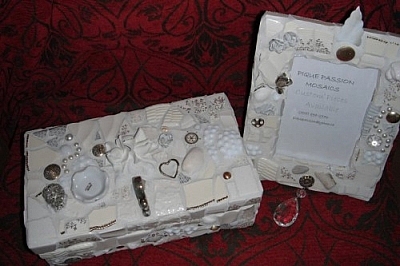 GN: Having studied fashion design, how do you see what you studied in relation to what you now do? Any links, knowledge carried over, etc.?
AG (PPM): There are very similar aspects — creating original pieces, the pattern design, cutting patterns similar to nipping, planning, the organization that has to be there, the actual fabrication, and then the finished product. The whole process is quite close; you're just creating in a different medium.
I learned to be very disciplined and I guess a "little" bit of a perfectionist when it comes to my finished product. Lol!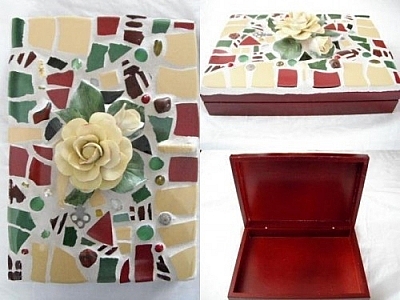 GN: Any plans for your future as an artist?
AG (PPM): I have now found the medium that I am most passionate about and I will continue my journey. I plan on building a second workshop at my new house and continuing to create my original pieces there.
I plan on participating in some artist / artisan shows in the next year or so as well and getting involved in the Sudbury arts community in any way that I can.
If I enjoy the teaching side of the mosaics, I would love to offer more courses in the near future as well.
I am comfortable to say I will be creating mosaics for a very long time!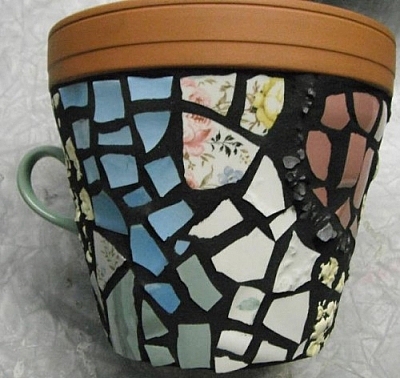 Pique Assiette-Style Mosaics
Instructor: Andrea Gregoire (Pique Passion Mosaics)
When: August 18-19, 2012, 9:30 a.m. – 4 p.m.
Where: TBD
Cost: $85eighty-five dollars (materials $70seventy dollars with option to purchase nippers for $10ten dollars)
Minimum: 5 students
Age: adults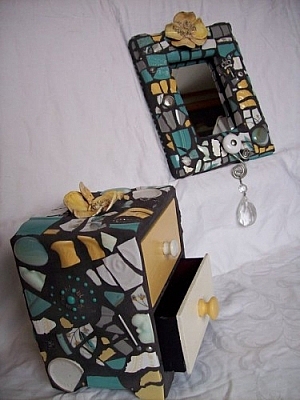 Pique assiette (meaning broken or stolen plates) is a style of mosaic that incorporates pieces of broken pottery, ceramics, china — anything from plates, dishes, cups, tiles, recycled materials — and other found objects into the design.
It is a great example of upcycling, which does not involve changing the original items into a new form. It means giving them a new lease on life by upgrading them to another purpose entirely different from that for which they were created.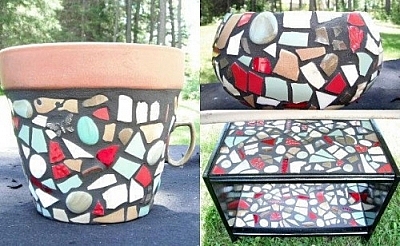 In this course, students will be recreating found objects into new beautiful pieces of art!
All students will learn basic, solid mosaic-building techniques and will work on individual interior and exterior pieces to take home.
Students will be encouraged to experiment with recycled, mixed media, and alternative materials to create two different-sized flowerpots and an indoor item such as a small mirror or trinket box.
All materials are provided in the materials fee, but participants may choose to bring items from home to supplement or support their chosen designs. Each student should have some form of inspiration such as a photograph or drawing.
Remember to wear work clothes, especially on the second day for grouting projects. For more information, contact Pique Passion Mosaics.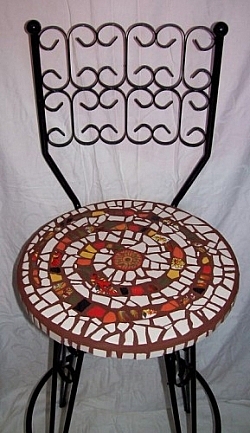 All photos courtesy of Andrea Gregoire of Pique Passion Mosaics.