As an organizer of the Land of the Voyageurs Rubber Boots Festival for two consecutive years, I certainly had my hands full!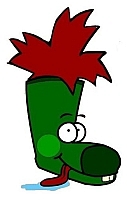 Of course I had a blast at both events, and I gained some valuable experience along the way.
Here is an interview I did to help promote the Rubber Boots Festival this year: Rubber Boots Signify Northern Spring — and Celebration by Jenny Jelen (Northern Life).
There was also a TFO video with interviews and clips from this year's festival, but unfortunately, it can no longer be found on YouTube :((frowny face). It showed dancing zebra-striped boots at the beginning, which were mine :)(smiley face).
And here's a video that was shot at the end of the festival last year, in which Le Groupe SWING compliments the Wood Fired Pizza sold at the event:
Popular in Arts & Culture