I'
ve pretty much stuck to writing about
local food
in this blog so far, and that's not really surprising. I've been writing about food since
Memories of a Carnivore
more than three years ago, but of course, I also like to bring up other Earth-friendly topics. Most recently, the
upcycled art of Pique Passion Mosaics
caught my attention. But for almost three years now, I've been enthralled by
Plain Jane Soap
.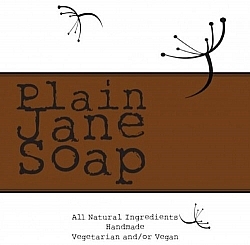 Plain Jane hand-makes its natural and luxurious bar soaps in Azilda. Preservative-free and unpackaged or lightly packaged, they're made of many local products as well as olive oil, Shea butter, and other environmentally-friendly, natural ingredients. That makes them good for your body's health, too, since they won't bog it down with parabens, perfumes, petrochemicals, preservatives, or other toxins found in most beauty products.
Only some of Plain Jane's oils, however, are fair trade or organic, raising concerns about the environmental and ethical impacts of some of these natural ingredients, like coconut and jojoba oils. With me, though, it's easy to earn brownie points with local products, and Plain Jane uses plenty — oats, herbs, beeswax, honey, apple cider…
And, Plain Jane soaps are tried and tested by yours truly. Ok, those of you who know me are probably lifting your eyebrows — so I'm a bit of a hippy. Just don't ask — you don't want to get me started on water conservation…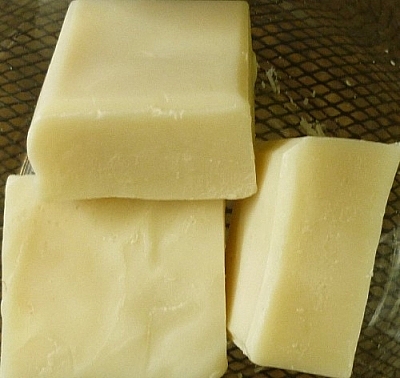 I do have to say that's one of the reasons I love Plain Jane soaps. They lather! I take navy showers, which means I only let the water run while I rinse. Soaking my hair and wetting Plain Jane's shampoo bar is enough to get a good lather going.
I find that as my hair grows longer, I need to apply some conventional wisdom: Lather. Rinse. Repeat. And, I prefer to lather the bar in my hands than directly on my scalp because it stays free of clinging hairs that way.
Since I like to go with the scent containing the fewest ingredients when unscented isn't available, I like the lime and tea tree oil shampoo bar. Simple, clean, and fresh.
Why do I use a shampoo bar, you ask? To reduce on plastic packaging, to start. Stack up the pros and cons of a bit of paper, even waxed, against those of a plastic shampoo bottle, and you'll come up with a clear winner rather quickly. Which product has the highest carbon footprint once you've taken into account resource extraction, transportation, refinement, more transportation, manufacturing, and then, more transportation?
I have ulterior motives, I confess. It's also about water conservation
(winky face).
Solid shampoo requires less water to produce than liquid shampoos, logically. I just read that we'll be running out of fresh water sooner than we think. Arctic ice is melting at a faster rate than expected — again. Without that ice to source the world's freshwater watersheds… [insert doomsday prediction here].
Plain Jane Soap cares, so owners Terri Lepage and Rocsan Vaillancourt make a ton of other great bars. It's hard to pick one to describe next since they're all my favourites, so I'll keep showering.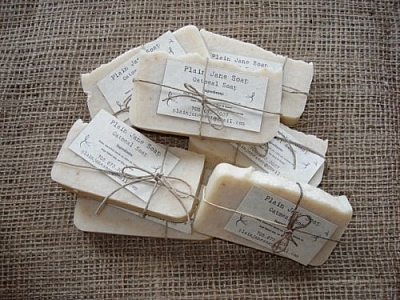 The oatmeal cube, made with local oats from LoonSong Garden, is great as an exfoliator — especially on rough knees and elbows.
The
peppermint cube
soothes and invigorates the bottom of your feet, perfect after a long day standing up or to energise your senses and your soles for the day.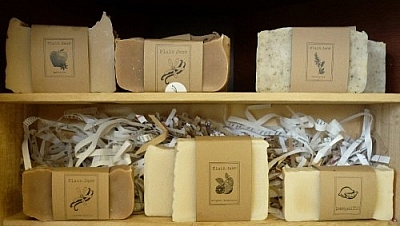 There are quite a few hand and body soaps I like, scented and unscented. The Mind Your Beeswax Honey is gentle enough for the face — an essential part of my daily routine. The Apple Cider, Rosemary Mint, and Lavender Vanilla smell so yummy, I've given them as sweet "thinking of you" gifts!

Out of the water, Plain Jane Soap scores high points for its moisturizing bar (made of local beeswax, olive oil, and a few other ingredients), which is smooth, rich, and basically lasts until you wash it off. That's one of the bee-autiful properties of beeswax! Either rub the bar between your hands to warm it, then use your hands to moisturize yourself, or once the bar is warmed, rub it directly on your skin. I find that various scents will work better differently.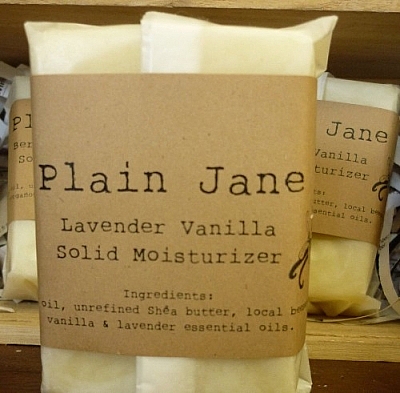 I love these moisturizing bars so much, I've often given these as gifts as well, with excellent results. My sister carries it in a baggie in her purse as her preferred hand moisturizer. I also store it in a baggie (reused!) to preserve its moisture.
What's best, though, is that they make great massage bars, so try the Achy Breaky for sore muscles, or scented or unscented to soak up some nutrients for your skin.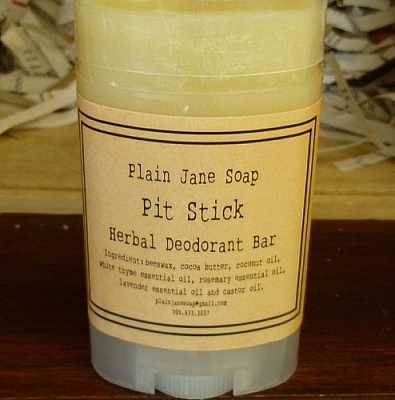 Plain Jane's pit stick is very like the moisturizing bar, except you probably won't want to rub it on your hands, but rather, apply it directly to your armpits. It works wonderfully, and although it comes in regular deodorant packaging, Terri and Rocsan will happily custom-make you a larger bar wrapped in wax paper if you ask. They say they're always pleased when a client wants to reduce packaging!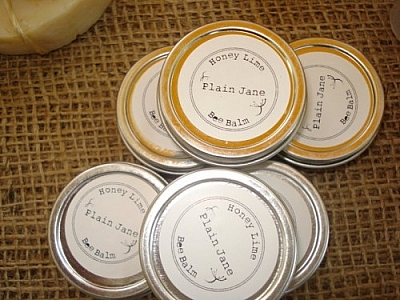 There is one Plain Jane product I take absolutely everywhere — my beeswax lip balm. It's simply the best I've ever tried. Just buy a tin once, then order a larger version wrapped in wax paper when you contact Terri and Rocsan about your pit stick.
Plain Jane Soap has also branched out in recent months, providing handmade powdered laundry soap (yay water conservation!). I'm hooked on soap nuts (more on those in an upcoming post!), so I admit I haven't tried it. I'd be interested to know how it goes if anyone does!
There's such a wide variety of products I haven't covered here, like shea butter, nor have I tried all the scents, like Bergamot Grapefruit (which smells delicious!), so find out which ones are your favourites by checking out Plain Jane Soap at Dalew Farms, Eat Local Sudbury, The Specialty Market, or The Wellness Shoppe.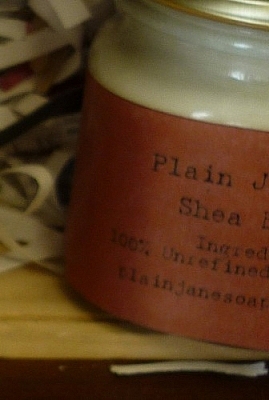 Once you do, take care of your soap by letting it drain well between uses. It'll remain firm, lasting much longer.
Can't get enough of Plain Jane Soap? Visit its Facebook Group for frequent updates.