The special ingredient for many of our recipes is no secret — biodynamic rolled oats from LoonSong Garden in Little Current.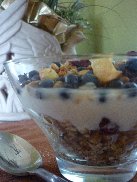 I used to hate oatmeal, up until a few years ago when we began buying LoonSong Garden's local rolled oats. Now, it's a clear favourite. Whether we're backpacking or car camping when picking blueberries, Marc and I always have oatmeal for breakfast. We put Sucrerie Séguin granulated maple sugar in it or fresh blueberries; my mom or grandma's preserves or our own trail mix.
We really love our homemade granola, too, which we make using LoonSong Garden rolled oats and our own freshly-picked blueberries and dehydrated strawberries. So, we've lately been excited to try our hand at granola bars.
Farming their land for almost ten years now, LoonSong Garden owners Paul Salanki and Heather Thoma added grains three years ago, with tremendous success.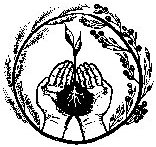 Inspired by the loyalty of the loon to harness the wisdom of the past for the betterment of the future, the couple uses organic and biodynamic methods to grow more than 30 types of vegetables in addition to oats, Red Fife wheat, rye, and spelt.
The LoonSong Garden team even stone-grinds and mills the grains on-site on a weekly basis.
The truly whole grain flours they produce are a rare find since, as LoonSong's website explains, commercial millers don't include the grain's germ in their "whole" breads.
Because LoonSong does, it also uses a stone mill to avoid heat damage to its flours.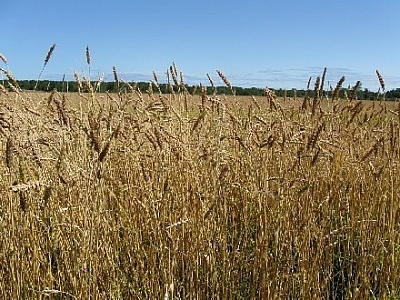 One of the things I admire most about LoonSong is its commitment to sustainability by considering the needs of the land it occupies and its surrounding environment.
Each variety of grain is chosen carefully.
For instance, modern breeding methods have not tampered with spelt, apparently the current "in" ancient grain amongst gourmet bakers.
Meanwhile, rye offers "weed control and soil-building characteristics in organic conditions," and Red Fife wheat is adaptable "to various soil, fertility, and climate conditions."
Red Fife wheat, the oldest variety in Canada, has an interesting history. Astonishingly, there were only a few pounds of it left only 25 years ago!
I'm awed even though I'm not much of a baker. We don't use flour too often, but we do get creative with it ;)(winky face).
To be honest, we haven't tried the rye and spelt flours, but we've gone back to the Red Fife wheat flour time and time again:
We use it to make a simple batter for fish fries and it's delicious!
We also use it to coat fried green tomatoes (dipped in milk first), which we get fresh from our garden or a local farm.
We mix it with spaghetti squash and eggs to make spaghetti squash pancakes (too thick and they don't cook well).
We've made bread in the past, using a bread maker, but the habit hasn't stuck yet.
And believe it or not, it makes great gravy.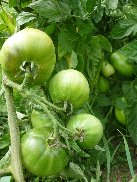 LoonSong Garden lives its philosophy wholly. Devoted to raising awareness about agricultural issues, Paul and Heather impart their knowledge and beliefs by offering workshops, sharing gardening resources, and hosting farm tours.
LoonSong Garden also accepts volunteers participating in a CRAFT Ontario (Collaborative Regional Alliance for Farmer Training in Ontario) apprenticeship program. And, Community-Sponsored Agriculture (CSA) members are welcome to help out in the garden.
Want some LoonSong Garden flour and oats? You don't have to go far. Dalew Farms in Lavigne and Eat Local Sudbury, as well as other locations across Ontario, carry LoonSong's flours and oats.