We're still unsure about whether we'll be moving in the spring; so until I know for sure that I'll get to plant a garden this year, I'm exploring other options. In French River, we're lucky to live so close to Dalew Farms, an organic farm owned and operated by Dave and Chantal Lewington.

Dalew Farms offers a Community Supported Agriculture (CSA) program through which it sells shares of its crops every growing season. Since it's difficult to get truly local produce in grocery stores, CSAs are gaining in popularity across North America. Small farmers are able to purchase only the seeds they need and can plan the season's crops much more effectively when they know ahead of time what they will sell. In return for their initial investment, share owners are assured a constant and diverse supply of fresh, local, organic produce.
At Dalew Farms, CSA shares feed a family of four for 16 weeks, with enough left over for winter storing or freezing. Deliveries are made to Sudbury and North Bay once a week. Those living elsewhere must visit the farm weekly to pick up their produce bins, but they're spared the delivery charge.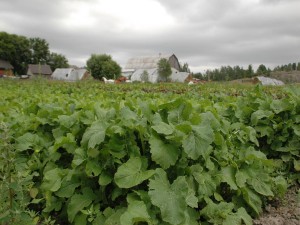 And the variety of veggies available at the farm is astounding. Carrots, onions, beans, potatoes, broccoli, cauliflower, kohlrabi, beets, peas, squashes, garlic, greens, herbs, melons… I'm sure I missed something. Conveniently, Dalew Farms has posted a list of its produce along with some recipes and freezing and storing tips.
Although it formerly made its produce available at Eat Local Sudbury, Dalew Farms will be focusing solely on its CSA program as of 2012. That means there are now only three ways to purchase Dalew's produce: by buying a CSA share, visiting the farm, or purchasing through the online buying club.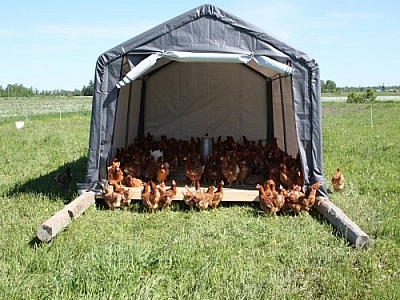 Dalew Farms also sells a variety of other local products, both on the farm and through its website. Products range from grains from Manitoulin Island to tea from the Boreal forest. These services is perhaps less useful to Sudbury residents who can find the products at Eat Local Sudbury, but area residents will surely appreciate having to make one less trip into the city!
Not only does Dalew Farms cultivate organic produce, it also sells pastured eggs fed a cool homemade grain mixture and grass-fed meats and poultry.
Dave and Chantal have very high standards that ensure the well-being of their animals. I share with them the belief that small farms practising ecological agricultural methods are far more sustainable and humane in their methods than even certified organic large-scale operations. Their Growing Methods explain very well why they are organic but not certified organic, providing a good example of the failures of the organic certification system in the US beef industry.
True to their commitment to helping to build a viable local food production and distribution system, Dave and Chantal run an internship each summer to train apprentices into becoming new farmers.
The couple offers room and board and other incentives — and most importantly, their knowledge — in exchange for hardy farm work. As Dave explains, encouraging more people to become farmers and inspiring more local farms to develop CSA programs will only strengthen their business model.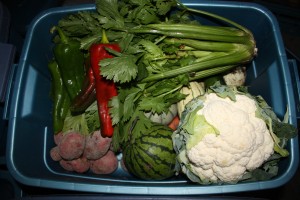 These local food providers are a dream come true to me. It's an awesome experience to drive out there on a hot summer day and pick and choose fresh local veggies while cooling down with some organic ice cream.
So, if I don't get my own garden, I'll try to find a partnering couple or two to go in on a CSA share with Marc and me. Chantal told me last week that there are only 50 (of 160) shares left, so time's a-runnin' out! (You, too, can stay in the know by following The Dalew Blurb.)
Want to know where else to get local food? Check out these interactive maps for North Bay (west to Lavigne, east to Mattawa, and south to Restoule) and Sudbury (north to Capreol and Levack, west to Lively, east to Sturgeon Falls, southeast to French River, and southwest to Killarney).
All photos are courtesy of Dalew Farms.